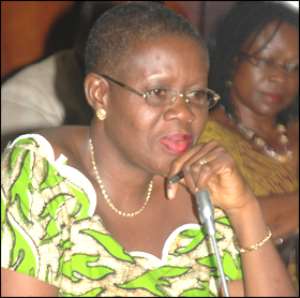 Akua Sena Dansua The Ministry of Women and Children's Affairs (MOWAC) has commended the Ghana Police Service for the recent arrest of three Chinese nationals suspected to be members of a West African human trafficking ring.
The arrest, the ministry said, demonstrates the Police Service's commitment to the national effort of eliminating human trafficking in Ghana.
MOWAC congratulated the Service for its support in the implementation of the Human Trafficking Act 205 (Act 694).
It condemned the increasing rate at which violence was being perpetrated against women in recent times.
"We have observed with great concern an increasing rate of gruesome abuse and violent attacks against women being carried by the media, and vehemently condemn it," the ministry said in a statement.
According to the statement signed by the new Minister of MOWAC, Akua Sena Dansua, these stories in the media are "very worrisome and unacceptable".
Mention was made of a recent publication in the January 28, 2009 edition of the DAILY GUIDE which carried a story of a man who raped his wife and afterwards forced a poisonous drug down her throat as well as into her private part leading to her untimely death.
On Thursday February 5, 2009, in another publication in the Daily Graphic, a certain Millechie was reported to have raped a woman who was on her farm and inflicted serious cutlass wounds on her. The report indicated that the woman's left arm was completely dismembered through the attack.
In the Ashanti region, the ministry said, there has been increasing attacks on women by armed robbers who rape their victims.
In one instance, it was reported that the robbers or assailants inserted a metal rod into the private part of the victim.
The Ministry has for that reason called on the law enforcement agencies, especially in areas where these criminal offences are carried out, to expedite action with the urgency that they deserve.
When this is done, the Ministry is optimistic that "it will send clear signals to would-be perpetrators of similar crime."
By Emelia Annin Abbey