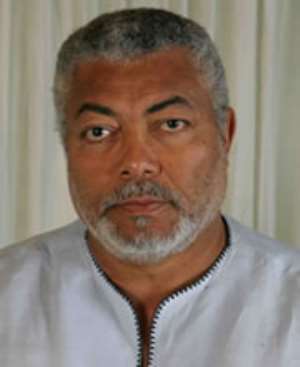 Ex-President Rawlings
Former President Jerry John Rawlings has commended President Atta Mills for splendid intentions he spelt out when he delivered the "State of the Nation Address" to Parliament on Thursday.
Mr Rawlings said he was moved by Prof. Mills' passion to boost moral behaviour in state institutions by giving staff the necessary support they needed to function effectively.
"When you are talking about the foundation of rebuilding a nation, if you cannot restore the ethical values, I am afraid you will be loaded with very corrupt situations and that is what we had throughout the past."
The ex-president said he was "very glad" that most of the topics covered by the president have to do with the restoration of good governance.
In his address, President Mills also stated that he would set a day aside to be observed as national holiday to immortalize Ghana's first president, Dr. Kwame Nkrumah. It would be christened "Founder's Day". Parliament would be served later with legislative proposal for consideration.

To this, Mr. Rawlings said: "Honouring Kwame Nkrumah, it is a laudable idea. We can never do enough to honour him for what he did for this country and I know the past regime attempted to degrade him in various ways in spite of what he has done for us."
He was happy President Mills mentioned it and was also hopeful that the NDC government will continue from what the P/NDC government left off before the NPP administration took over power.
Story by Isaac Essel