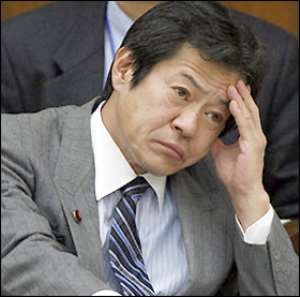 Minister Shoichi Nakagawa JAPAN'S finance minister has resigned after it was claimed he was drunk in front of the world's press.
Shoichi Nakagawa's slurred and baffling performance at a top level G7 meeting led to accusations he had been drinking.
Nakagawa was slammed as the Rome talks involving US, Japan, Britain, Germany, France, Italy and Canada were aimed at tackling global recession.
The finance minister claimed he was not drunk at Saturday's news conference – but had taken a heavy dose of cold medicine.
Yesterday he said: "It is a fact that I didn't conduct myself clearly and I feel I must put it straight.
"What I want the most is to completely recover from my cold."
But today Nakagawa said Japan's Prime Minister Taro Aso had accepted his resignation.
The embarrassing episode came as analysts said Japan's economy is shrinking at its fastest rate since the 1974 oil crisis.
The row could also strike a blow to Prime Minister Aso and his Liberal Democratic Party as he faces an election campaign at home.
Aso's approval ratings have plummeted to less than ten per cent after a string of gaffes and policy u-turns.
Jonathan Allum, Japan strategist at KBC Financial Products, said: "I think it is a further sign that the Aso administration is in its final phase."