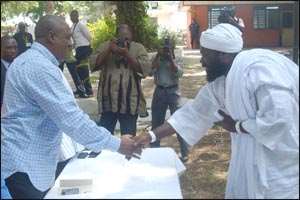 Veep Mahama greeting Numo Gbelenfo III TRADITIONAL PRIESTS and Priestesses of the Ga-Dangme Traditional Area have appealed to the President to involve them in matters bothering on the development and peace of the Ga-Dangme people.
The traditional leaders, led by Numo Gbelenfo III, Gua Wulomo of Osu, were at the Osu Castle to congratulate President Mills and Vice President John Dramani Mahama on their election to the high offices of the land.  
Presenting a litany of request to the Vice President, Numo Gbelenfo III complained of neglect of the traditional priests and priestesses by successive governments because of the perception that their way of worship is fetish.
He also complained of the fact that some political elements use the police and other security agencies to brutalize traditional leaders in the name of land disputes.
According to Numo Gbelenfo III, traditional customs such as ban on drumming that precedes their annual festival in Ga land have been disrespected by other settlers in the capital, saying they consider this behavior an affront to the customs of the land.
He therefore appealed to the Vice President to ensure that some elements in the Ghana Police Service and other security agencies exercised their authority within the confines of the law.
Numo Gbelenfo also appealed for some stipends for traditional leaders because life is hard for them.
For his part, Vice President Mahama assured them of President Mills' desire to work with them to ensure lasting peace in Ga land.
He expressed government sentiments on the high rate of chieftaincy and land disputes that had rocked the Ga Traditional Area which he said does not augur well for national development.
Vice President Mahama thanked the people of Ga-Dangme Traditional Area for their patience, especially being the host of the capital of Ghana and the neglect the people continue to receive from government officials.
He assured them that as soon as the Greater Accra Regional Minister-designate was vetted and confirmed, the Minister would invite them for full-scale discussion on the way forward.
On the issue of Ga lands, the Vice President stated that the Minister-designate for Lands and Natural Resources would be mandated to deal with the issue as soon as he was vetted and confirmed.
He appealed to them to eschew any negative tendencies that could create disharmony in the Ga State.
By Wisdom Peter Awuku