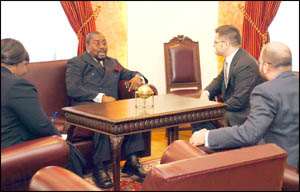 Nyaho-Tamakloe in a chat Ghana's Ambassador to Serbia, H.E. Dr. Nyaho Nyaho-Tamakloe called on the Minister for Foreign Affairs of Serbia, Mr. Vuk Jeremic on Friday, 6 February 2009 to bid him farewell at the end of his tour of duty to Serbia.
In the discussions that took place at the meeting, the two officials discussed Ghana's elections, the re-opening of the Serbian Embassy in Accra and a proposed visit to Ghana by the Foreign Minister.
The Foreign Minister praised the conduct of the elections that took place in Ghana in December 2008, noting that the success of the elections, given how close the final results were, proved that Ghana's democracy had come of age.
On Serbia's relations with Africa, the Foreign Minister revealed that he would be visiting a number of countries on the continent in 2009 including Ghana, as part of measures by his country to re-engage more actively with Africa.  
He also hinted that Serbia would re-open four Missions in Africa, including Ghana, in the course of the year.
Mr. Jeremic commended Ghana's outgoing Ambassador to Serbia on his achievements in enhancing Ghana's relations with Serbia, stressing that he had been an active presence in Belgrade and his absence would be sorely missed.  
He wished Dr. Nyaho Nyaho-Tamakloe a safe journey to Ghana and best wishes in his future endeavours.
On his part, Ghana's Ambassador recalled his country's longstanding relations with Serbia, and expressed gratitude for the many forms of assistance Serbia had extended to Ghana in the past.
He assured the Foreign Minister of Ghana's commitment to maintaining and enhancing its relations with Serbia.
In his concluding remarks, H.E. Dr. Nyaho Nyaho-Tamakloe thanked the Foreign Minister for the cooperation he had received from the Serbian officials in the discharge of his duties, saying that he had enjoyed his stay in Belgrade and would always have fond memories of the country.