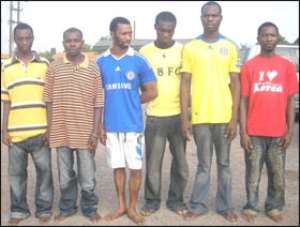 faces of the alleged robbers ONE OUT of seven suspected armed robbers sustained gun wounds in his leg when he tried to escape arrest at A     denta in Accra.
The Adenta District Police Commander, DSP Richard Gyebi said the suspected armed robber, Isaac Opoku Acheampong, 31-year-old trader, was recuperating at the Police Hospital whilst six of his accomplices were in police custody.
The six, namely Kwadwo Asare, 22, driver; Eric Tetteh Bio aka Dada, 28, trader; Kwaku Osei, 22, auto mechanic; Yaw Sagbo, 27, mason; and Ashitey Tei, 21, driver's mate, were rounded up together with their wounded colleague on the Adenta-Dodowa road by the Highway patrol team following a tip-off that there were some armed robbers in a taxi cab robbing unsuspecting residents of the area.
According to DSP Gyebi, fortunately for the Adenta Police, the Highway patrol men had just got to the Adenta Barrier and the information was relayed to them.
The team spotted a Caravan taxi cab with registration number GR 6598 Y and ordered the driver to stop, but the driver ignored the order and rather sped on even through traffic.
The team therefore gave them a hot chase and overtook them, leaving the driver with no option than to slow down.
When the suspects realised that the police had closed in on them, they all tried fleeing but the patrol team wounded one in the leg whilst the rest were chased and arrested.   
The Police Commander had indicated that the police would in the course of next week conduct an identification parade at Adenta to allow members of the public who might have fallen victims to the escapades of the suspects to come and identify them.
The Commander also told DAILY GUIDE that eyewitnesses said a black saloon car ahead of the said taxi whisked some of the accomplices away.
A search in the taxi cab revealed a knife whilst 80 fake dollar notes were found in a knap-sack found on Acheampong.  
DSP Gyebi was grateful to the public for their alertness, and encouraged them to continue in the same spirit to help the Police rid the country of crime.
By Rocklyn Antonio