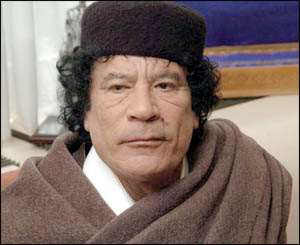 The Volta Regional Branch of the Green Book Study Club (GBSC) says the election of Muammar al Gaddafi, Libyan Leader, as Chairman of the African Union (AU) would strengthen the voice of the masses in deciding the fate of the Continent.
A congratulatory statement dated February 10, this year and signed by Brother Kwame Amedzo, Regional Secretary–General said Brother Gaddafi would surely spur Africa "towards its goal of total liberation and unity…".
The statement praised the new African Union Chairman's resolute stand that had "tremendously sustained and shepherded the AU to this far".
It saluted Brother Gaddafi for the progress he had made against "all odds in helping establish the AU".
"Excellency, your election on this momentous occasion as the AU Chairman is again a fitting tribute to your great quality of leadership to the African Continent," the statement said.