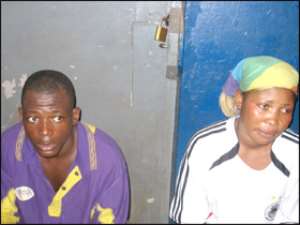 Abass and his girlfriend Fawzia A motorcycle riding armed robber hit the end of the road yesterday when after robbing a woman under the King Tackie Tawiah Overhead Bridge in Accra, he was stopped when he attempted another robbery mission nearby.
Abass, the suspect who claimed to be 18 but looked older, upon dispossessing the woman of her mobile phone, descended on another victim nearby. This second victim however called in a police patrol team which responded quickly and nabbed him.
His accomplice escaped arrest though, according to the Nima Divisional Police Commander, ACP Awuni Angwubutoge.
The Commander gave a bizarre narration of what happened when he said that Abass was identified by the woman he had robbed a while ago when she came to the Nima Police Station to report her ordeal.
Upon identification, the suspect was searched and the mobile phone he dispossessed the owner of was found on his body.
Interestingly, his girlfriend, a certain Fawzia, turned up at the Police Station to demand why her man was being detained.
She flared up and bit a policewoman on duty at the counter who has since sought medical attention.
The arrest has turned a blessing for the Greater Accra Regional Police Command headquarters after they had identified Abass as a suspect on their wanted list for the past three years.
The Police, according to Mr. Angwubutoge, are investigating another robbery incident also involving two motorcycle riding robbers near the Kotoka International Airport.
In the operation, he said a decently dressed lady attracted the attention of the robbers who robbed her of a handbag which turned out to contain only GH¢15.
It is too early to link Abass to that operation but investigations are on to find out whether he had a hand in it.
The Divisional Commander has served notice that his outfit would soon embark on a massive seizure of unregistered motorcycles in his area of jurisdiction and beyond.
It has been observed that many of such unregistered motorbikes are used for robbery operations by some youth in the Nima and Accra Newtown areas.
While not all these bikes are used for robberies, others when they are engaged in accidents some fatal, cannot be traced as the riders disappear without trace.
By A.R. Gomda