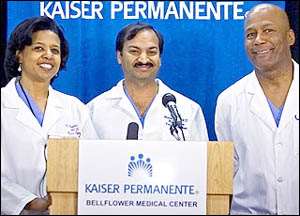 Drs. Maples, Gupta and Henry
The mother of octuplets spoke out for the first time Thursday, saying in a statement she was "ecstatic" and thanked the public for their "positive thoughts, prayers and generosity."
 In the statement issued though Kaiser Permanente hospital in Bellflower, Calif., the anonymous mother says:
"We understand that you are all curious about the arrival of the octuplets and we appreciate your respect for our family's privacy. Please know, in our own time, we will share additional details about this miraculous experience.
"The babies continue to grow strong every day and make good progress. My family and I are ecstatic about all of their arrivals. Needless to say, the eighth was a surprise to us all, but a blessing as well.
"Thank you to the extra special nurses and hospital staff for their tireless support. Ever since I came to Kaiser after becoming pregnant, I've been grateful for the phenomenal medical team responsible for the extraordinary care that my babies and I received.
"Finally, we thank all of you for the positive thoughts, prayers and generosity."
The statement was signed, "The Family."
Medical Update
The hospital announced that at least some of the babies should be hearty enough in another three days for the mother to hold them, and the mom, herself, should be home within a week.
Seven of the newborns are now breathing regular air and only one, a boy born at just under 2 lbs., is still breathing through a tube, the hospital says. Seven babies are being tube-fed donated breast milk, while one boy, born at only 1 lbs., 8 oz., is not yet ready for those feedings but should be by Friday. People