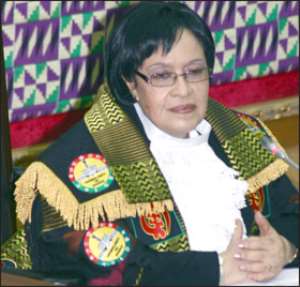 Justice Joyce Adeline Bamford-Addo Parliament has approved a five-member committee to advise the Speaker, Justice Joyce Adeline Bamford-Addo on the appointment of other members of the Parliamentary Service Board.
They are Alban Bagbin, Majority leader; Osei Kyei-Mensah-Bonsu, Minority leader; John Tia, Deputy Majority Leader; Mrs Elizabeth Tetteh-Amoah, Member of Parliament (MP) for Twifu-Atti Morkwaa; and Papa Owusu Ankomah, MP for Sekondi.
The Board when appointed would see to, among others, the welfare of Members of Parliament (MPs) to enhance parliamentary democracy in the country.
In moving the motion for the approval of the members, the Majority Leader said even though the Speaker has the discretion to appoint members of the Board, that discretion is limited and that the committee members would have to meet and confer with the Speaker before such appointments are made.
He however stressed that "the Speaker has ultimate responsibility in appointing membership as stated".
In contributing to the motion, Hon. Stephen Balado Manu, MP for Ahafo Ano South said the work of the Parliamentary Service Board is important to the performance of the institution of Parliament, and urged members to be open in the discharge of their duty.
Hon Alfred Kwame Agbesi, MP for Ashaiman observed that members of the committee should use their rich experience and knowledge to give good advice to the Speaker.
Admonishing members of the committee, MP for Atwima-Mponua, Isaac Asiamah said they should provide right advice that would advance the cause of Parliamentary democracy.
Earlier, members settled that the Majority Leader is now the leader of Parliament.
The issue of who is the leader of the House is a controversial one and it was revisited again, this time with the agreement that Alban Bagbin, Majority Leader should also be the leader of the House.
Seconding the motion, Papa Owusu Ankomah said he was doing so with a reminder, recalling that he was once a Majority Leader and anytime he described himself as the leader of the House, the then Minority side vehemently opposed it.
Contributing, the Minority Leader, Osei Kyei-Mensah-Bonsu said it is not everything that should be stated in the Standing Orders of the House.
He argued that the leader of the House is not described in the Standing Orders, however in all civilized democracies the Majority Leader is always leader of the House.
"There has been serious objection of who the Majority Leader was when the Majority side represents the other side of the House, but for the sake of civilized democracy the Majority Leader is the leader of the House and must be recognized as such."
Hackman Owusu-Agyemang, who described the Majority Leader as his brilliant nephew,  said "if the Majority has agreed that Alban Bagbin should be made leader of the House then come the next four years, we would want them to recognize us as such when we become the Majority".
By Sheilla Sackey