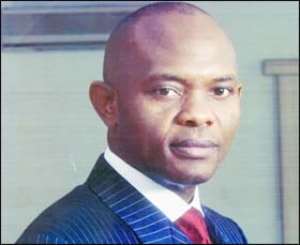 Tony Elumelu - Group MD of UBA THE EXPANSION drives of Nigerian banks and insurance companies operating in Ghana seem not to be affected by the current global credit crunch, as many of them continue to open more branches across the 10 regions of the country.
Investigations indicate that all the six Nigerian banks in the country have in the last three months added an average of three new branches to their networks at a time businesses across the globe are downsizing their workforce and closing down some existing operations.
United Bank for Africa (UBA), the first Nigerian bank to begin operations in the country, grew its branch network by more than 60 percent in 2008. On the whole, the bank opened 10 new branches last year, extending its operations to Aflao, Takoradi and Kumasi. Both Intercontinental Bank and Zenith Bank embarked on similar expansion drives outside Accra.
Intercontinental Bank's latest branch, an imposing edifice at the Kwame Nkrumah Circle, is expected to begin operations before the end of January, according to an official of the bank.
Similarly, Amalgamated Bank Ghana Limited, a subsidiary of Oceanic Bank Nigeria plc, recently opened a branch on the Osu Oxford Street.
One of the fastest growing commercial banks in Nigeria, Access Bank, is expected to start operations in Ghana later this year.
The bank obtained its operating licence in November 2008 and is already recruiting staff and acquiring properties ahead of its formal opening.  
Also, the bank is said to have gotten the green light from the Bank of Ghana after paying an amount of $100 million, twice the minimum capital requested by December 2009.
The pace of expansion is expected to continue this year, given that the banks will witness more capital injection as the December 2009 recapitalisation deadline for foreign banks operating in Ghana draws to a close.
Analysts, meanwhile, are projecting a 50-percent rise in the number of employees of these banks by the end of 2009.
International Energy Insurance (IEI) which began operations in Ghana last year is leading the pack among Nigerian insurance companies presently embarking on the expansion of their branches.
The company is already building three new branches in Tema, Kumasi and Takoradi, all of which are expected to be commissioned by March, according to Roseline Ekeng, Managing Director of the Ghana subsidiary.
Analysts point to the recapitalisation exercise in both the banking and insurance sectors in Nigeria as the magic wand that made the current continental expansion possible.
UBA, Access, and GTBank plc are among banks of Nigerian origin that currently operate in a number of African countries.
From Business Desk