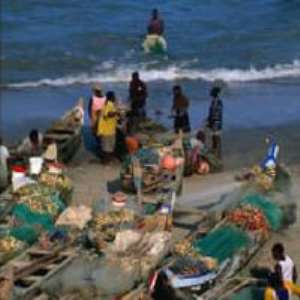 Government is to establish two autonomous oversight bodies, to manage the 14 fishing harbours and landing sites being constructed alongside the coastal areas of the country.
The two organisations would be known as the Fishing Harbours and Landing Sites Management Authority and the Cold Stores and Refrigeration Management Authority.
Vice President Alhaji Aliu Mahama announced this in Winneba in the Central Region, where he cut the sod for the construction of a 12-million-dollar local fishing wharf.
The project would comprise premix fuel depot, cold stores and refrigeration facilities, a crèche, administration block, power station, fish market and net storage sheds.
The 14 landing sites would cost 148 million dollars, and 80 per cent of the contract cost was through internally generated funds while the 20 per cent came from the Food and Agriculture Budgetary Support from the Canadian International Development Agency.
Alhaji Mahama also cut the sod for the construction of a new Hospital for the municipality to cater for the people as well as the volume of motor accident along the major Trans-West Africa highway, which comprises Aflao-Accra-Cape Coast-Takoradi-Elubo corridor.
The project is expected to be completed in 18 months at the cost of 18.7 million euros.
Alhaji Mahama said Parliament had approved a grant for the construction of two hospitals in Wa in the Upper West Region and Kumasi South in Ashanti Region.
Six district capitals would also be constructed at Adenta, Twifo Praso, Konongo Odumase, Tepa, Wenchi and Salaga.
Alhaji Mahama asked contractors who would work on the projects to engage local expertise and labour.
Mrs Gladys Asmah, Minister of Fisheries, said research findings over the past three decades gave ample evidence of depleting stock of the countries fishery resources.
She said the effect of the global climatic change, coupled with the seeming exploitation by the various operators had resulted in conflicts among the fishing operators.
Mrs. Asmah said a National Fisheries and Aquaculture Policy document had been developed to stem the problems.
The document, which is the first comprehensive policy document on the fisheries and aquaculture sector, would serve as the blue print for the management of fisheries resources and development of aquaculture.
She said government had started the process of repossessing the Tema Boatyard, which was divested in 1996 at a cost of 300 Ghana Cedis.
Mrs. Asmah said more than 40 boats and canoes have been lost over the past two years due to lack of refurbishment.
Mr. Abraham Odoom, Deputy Minister of Health, said a hospital to treat and carry out research solely on malaria would soon be established in Ghana, while a research centre on buruli ulcer would be sited at Dunkwa on Offin.
Nenyi Ghartey Paramount Chief of the area, suggested the need for the establishment of a nursing and paramedical centre at the University of Education, Winneba when the hospital project is completed.