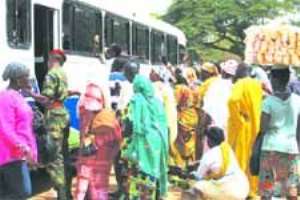 About 800 prospective Muslim pilgrims may miss this year's pilgrimage (Hajj) because of the inability of the Passport Office to process their passports.
As of 1 p.m. yesterday, the passports were not ready, but officers at the Passport Office had said they would be able to release the passports by the end of the day.
Meanwhile, the deadline for the issuance of visas is today, November 21, 2008.
Executive Secretary of the Interim Hajj Management Committee (IHMC), Sheikh Yunusah Osman Mohammed, said the delay in the processing of the passports had created anxiety among members of the committee.
According to him, the passports were supposed to be presented to the Embassy of the Kingdom of Saudi Arabia for visas latest by today.
Sheikh Osman said if the Passport Office was unable to release the passports by then, the Embassy could not be faulted should it fail to extend the deadline for the issuance of visas.
He said the delay in the release of the passports had the tendency of affecting the smooth organisation of this year's Hajj.
Some of the pilgrims who had not yet received their passports were anxious, but the smooth departure of the first two flights on Wednesday gave them hope that their documents would be processed early enough for them to embark on the pilgrimage.
So far, 532 pilgrims had been lifted to the Kingdom of Saudi Arabia. A pilgrim yet to receive his passport, Alhaji Ibrahim Abass, was confident that his passport and those of his wife and his sister would be released by the end of the day.
He described the organisation of this year's Hajj as "excellent", since there was a marked improvement over the previous ones.
"There is peace all over. The organisers are working excellently, so I hope that all of us will be taken to Mecca," Alhaji Ibrahim said.
Hajia Hassana Mohammed told the Daily Graphic that she was satisfied with the organisation of the Hajj so far and hopeful that she would perform the Hajj without any difficulties.
The situation at the Hajj Village at Kawokudi was that of hope as prospective pilgrims were relaxed in their tents.
As of 12 noon members of the IHMC, Hajj agents and some immigration officials were checking in and bussing some pilgrims from the Hajj Village to the Aviance Centre where they will go through departure formalities before their departure at 4:25 p.m.
The IHMC officials said there would be daily flights from Accra to Jeddah till Sunday, November 23, 2008.
Story by  Musah Yahaya Jafaru