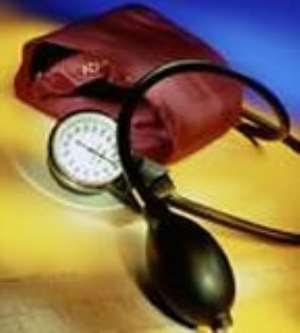 A young man, who managed to acquire a temporary certificate from the Ghana Medical and Dental Council (MDC) as a South African-trained medical doctor, has been arrested by the police in Accra.
Thirty-three-year-old Sam Frederick Prempeh Agbo had succeeded in gaining employment with a reputable hospital in the Central Region until his arrest on Wednesday, November 19, 2008 when he attempted to access his results for the foreign doctors' examination, conducted by the MDC.
The police retrieved a stethoscope and two stamps (one belonging to the SDA Hospital in Sunyani and the other, the Holy Family Hospital in Techiman, both in the Brong Ahafo Region) from him. Both cards bear the name George Prempeh.
Other items found were an eye screening instrument, fake voter ID card, one Nigerian passport with different name and picture, and two Ghanaian passports belonging to him but with different names - Frederick Agyemang and Frederick Agyemang Prempeh.
According to the regional crime officer, the accused was resident in South Africa until June this year when he came into the country where he met one medical superintendent at a hospital in Apam, Central Region.
The fake doctor gave his name as Sam Frederick Prempeh Agbo and introduced himself as a medical doctor with masters in Medicine from the University of Pretoria.
The medical superintendent, who was then desperately in need of a medical doctor, expressed interest in employing Agbo.
He therefore discussed with the regional health directorate and later gave an introductory letter to Agbo to be registered by the MDC.
The accused accordingly on June 20 this year, arrived in Accra and went to the offices of the MDC to apply for temporal registration with two copies of his medical certificates, issued by the University of Pretoria.
The Registrar granted the accused person's request by offering him the temporal registration with three months' expiration.
On September 15, 2008, the accused returned to the MDC to apply for the foreign doctors' examination which would enable him practice fully in the country.
Accused tendered two copies of his certificates, a registration certificate issued by the Professional Council of South Africa, and supported it with a testimonial signed by a senior medical officer from the Jakeranda Hospital, South Africa.
Though the accused succeeded in writing the said examination, the Registrar sent a word to the University of Pretoria to verify the background of the accused.
The Dean of the university wrote back to the MDC that the accused had never been a student of that institution.
Accused, knowing that his failure to pass the exams might give a clue to his fraudulent dealings, refused to pick his results until yesterday when he resurfaced at the premises of the MDC, where he was arrested.
The police said accused had been very incoherent during interrogation, saying they suspect that accused is a foreigner.
Accused would be arraigned after investigations.