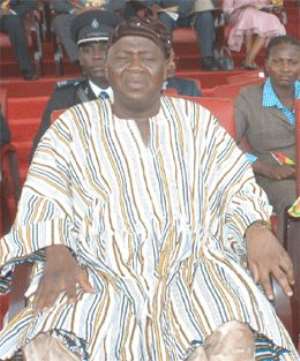 > Aliu, A Gentleman And A Bridge
Alhaji Aliu Mahama The gentle and modest man that he is, Alhaji Aliu Mahama on September 26, 2007 went to the headquarters of his party, the New Patriotic Party (NPP) to collect nomination forms which will facilitate his ambition to contest the position of the flagbearer of the party in December.
Very few doubted Alhaji Aliu's capacity and capability to run this country as the Chief Executive Officer after President Agyekum Kufuor's mandate runs out. In fact, when others were making noise he was still silent about his future plans.
Many thought the nation was going to lose a fine gentleman who had served this nation with due diligence over the last seven years the Vice-President.
What was baffling many Ghanaians was why such a huge number of party members were all proclaiming themselves to be the best to step in the shoes of President Kufuor when the person who was his second-lieutenant has done so well without blemish.
Were they saying they could have done better as Vice-President in place of Alhaji Aliu? We doubt it. Full of so much ambition, pomposity and ego, we wonder how any of them would have submitted humbly to President Kufuor these years with respect and dignity.
Alhaji Aliu throughout his tour of the country, never promised to give free meals to every Ghanaian when he comes into office as the President of the Republic. He knows he cannot do that because it is humanly impossible.
There is something, however, which is within his capability as a human being. That is to offer dedicated, committed and honest leadership without pandering to any particular ethnic, religious or regional whims, and that is what Ghanaians are looking for in their leaders now.
Alhaji Aliu is not just a politician who is full of ambition for political office. He has shown through his modesty that he is not consumed by inordinate ambition.
His has a mission to continue with an assignment started by the NPP under President Kufuor and restore to Ghanaians their dignity and national unity. That is why he is not just a fine gentleman but a bridge to link the north and the south, the Muslims and their Christian brothers and sisters.
The perception that the NPP is highly tribalistic is real.
Party supporters can choose to ignore this national thinking at the expense of victory in 2008. They can also choose to erase this negative impression from the minds of Ghanaians for success in 2008.
Alhaji Aliu is the mortar that would bind all the various groupings in the party and give it a true national character. Shall the NPP take advantage of this fine opportunity? Sure.
That is why delegates to the national congress to pick the flag bearer of the NPP should be discerning and not play into the hands of the loudmouths who, drenched in their over-bloated egos, may think they can take Ghanaians for granted. The NPP must win, that is why Alhaji Aliu Mahama must win.
By John Mandorf Ajenkwa
search archives
Keywords:    
 Issue date:    
  ·  Type either Keywords, Date or both.
  ·  Date examples: 5/30/02, >5/30/02
http://www.gse.com.gh
Weather Forecast | Weather Maps http://www.accuweather.com/index-forecast.asp?partner=netweather&traveler=0&zipcode=AFR http://www.accuweather.com/maps-satellite.asp?partner=netweather
CurrencyConverter
^Top #top
  Copyright © 2008   Graphic Communication Group Limited .  All rights reserved.   http://www.bulletlink.com ^Top login.asp #top