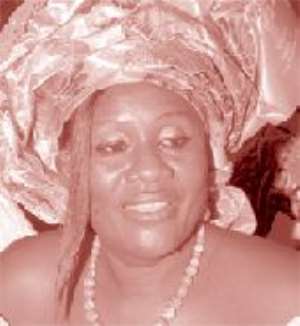 The Democratic Freedom Party (DFP) has suffered a blow with the resignations of three leading members who have defected to the New Patriotic Party (NPP) and the National Democratic Congress (NDC)just a month before the general polls.##m:[Read more]##
The Ashanti Regional Organiser of the party, Mr Sarfo Adams, has defected from the party and is now the Northern Sector Organiser of the 'Campaign for Effective Leadership' of the New Patriotic Party (NPP) in Kumasi.
The former second National Vice Chairperson of the DFP, Ms Frances Asiam, is leading the support group known as 'Campaign for Effective Leadership' a campaign wing of the NPP flag bearer, Nana Akufo-Addo, whilst the former Interim Chairman of the party, Alhaji Abdul Rahman Issaka, has allegedly joined the National Democratic Congress in protest of what he described as the influence of Dr Obed Asamoah, Life Patron of the DFP in his defeat during the presidential primaries which elected Mr Emmanuel Ansah-Antwi as the flag bearer.
Mr Sarfo Adams told the Daily Graphic that his decision to join Ms Essiam to campaign for the NPP was by virtue of the laudable programmes contained in the NPP's campaign messages which he believed was the only one among the lot that was cogent to propel the nation into realising its dreams of achieving a middle income status by 2015.
These resignations have been blamed squarely on the doorstep of Dr Asamoah because whilst Alhaji Issaka left for his differences over the choice of a presidential candidate, a source at the DFP headquarters told the Daily Graphic that Ms Essiam did not endorse the choice of the vice presidential candidate because she believed Mrs Patience Ami Ameku was imposed on the party by Dr Asamoah.
The source also disclosed that Ms Essiam was not in support of the party filing to contest the presidential elections this year.
"Our parliamentary candidate for Aburi-Nsawam was deceived not to file because she was given the wrong information that the national executive had directed him not to," the source alleged.
The National Youth Organiser of the DFP, Mr Prince-Derek Adjei, had also publicly accused Dr Asamoah for imposing the choice of a running mate on the party to the total indignation of the National Executive Committee.
But Dr Asamoah in an interview denied playing a role which called for the resignations of those party stalwarts and described their reasons as " a convenient excuse" hatched to discredit him, noting that he was only a victim of circumstances.
"What they are saying is not correct, it is not borne out of fact because am not dictating to anybody," he said, adding "I was not even at the meeting when the discussion leading to the choice of the running mate was made".
Story by Sebastian Syme