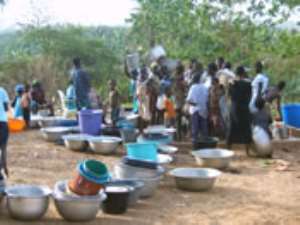 Barekese Headworks is to increase water production from 18 to 24 million gallons per day (MGD) after the on-going rehabilitation and expansion.
Mr Tony Moroney, Project Manager of Taysec Construction Limited, contractors executing the project said all the four Raw Water Pumps would be replaced and the existing 18 filters refurbished in addition to providing a module consisting of an Aerator and Clariflocculator.
He was briefing a 20-man delegation of the Parliamentary Select Committee on Water Resources, Works and Housing that inspected Barekese and Owabi Headworks on Sunday.
The two Head works of Ghana Water Company in Atwima-Nwabiagya District in Ashanti Region are undergoing rehabilitation and expansion to improve water supply to Kumasi and its environs.
The projects formed part of the Kumasi Water Treatment and Expansion Project being financed by Ghana and Netherlands Governments at an estimated cost of 37.8 million Euros.
Mr Moroney said the production of three million gallons of water per day at Owabi would not be increased but the Control Centre for the High Lift Pumps would be renewed and rehabilitated as well as providing chemicals for treating water.
Mr E. Appiah an engineer of the Company in Kumasi, said under the expansion and rehabilitation, a new Booster Station between Achiase and Barekese and Reservoirs at Suame would be provided as well as constructing 80 kilometre pipelines and valves to some areas.
He said the project which begun in October last year was expected to be completed in October 2009.
Mr Samuel Johnfiah, Member of Parliament for Ahanta West and Chairman of the Committee, expressed satisfaction with the work so far executed and commended the contractor for a good work done.
He was optimistic that the work would be completed as schedule to help improve water supply to the people in Kumasi and its environs
Mr Johnfiah said the visit was to know their progress and address problems affecting in their work and gave the assurance that the Committee would work hard to ensure adequate compensation was paid by Government to people affected by the construction of the dams