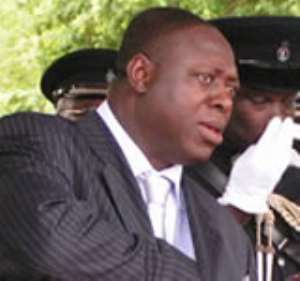 Regional commanders and security chiefs from the police, military and allied agencies will assemble in Accra tomorrow for the final phase of the national programme aimed at harmonising the operations of all security agencies during the December elections.
It will also involve all task forces established for the maintenance of law and order during the December elections.
In an interview with the Daily Graphic in Accra at the weekend, the Inspector General of Police (IGP), Mr Patrick Kwarteng Acheampong, said resource persons from the Electoral Commission (EC) would be in attendance to educate the security operatives on the electoral process.
Mr Acheampong said the move was aimed at building the capacity of the security agencies to get them to work as a team in order to take measures to prevent, any activity which had the potential of disturbing the electoral process.
Mr Acheampong, who is also the Chairman of the National Security Task Force, said the present phase of the exercise would be replicated in the regions and would be followed by a national mock exercise on November 16 and 17.
He explained that stakeholders and other task forces in the regions would be taken through what would be taught in Accra.
Mr Acheampong said during the programme, a rehearsal of all potential situations would be held.
He, therefore, appealed to the general public to co-operate with the security agencies during the mock exercises to make the programme successful.
The objective of the security operations, he maintained, was to ensure the integrity of the elections and to ensure that the electorate exercised their franchise in a peaceful environment.
He, therefore, appealed to the electorate not to be apprehensive or alarmed by the presence of security persons during the mock exercise, which would be held in all the regions.
He said on the day of the election, security persons would be required to be punctual, alert, exhibit fairness, be open and honest team players, and where the need arose, would be required to use minimum force.
Mr Acheampong challenged all regional commanders to ensure that their subordinates approached their work in a non-partisan manner to instill confidence in the electorate before, during and after the elections.
He also appealed to them to ensure good coverage of the elections to further uplift their image before the citizens of the country and the international community as a whole.