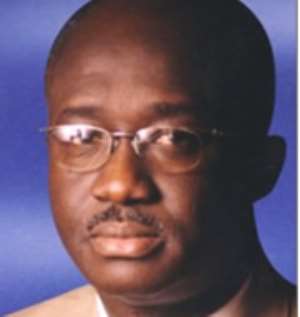 Kofi Adda, former Energy Minister and MP for Navrongo Central
An alleged verbal exchange between the Vice President, Alhaji Aliu Mahama and former Energy Minister, Kofi Adda, degenerated into fisticuffs between Adda and an aide of the Veep, identified only as Adams.
The exchange of blows occurred on Saturday and on the official dais for a New Patriotic Party rally in Navrongo, which at the time hosted the Vice President, the NPP 2008 vice presidential candidate Dr. Mahamdu Bawumia and several other leading members of the party and also witnessed by hundreds of party supporters.
Relations between Aliu Mahama and the Navrongo Central MP have been alleged to be strained and was the actual cause of the disdainful scuffle.
Journalist Gordon Adda of Style FM, who witnessed the altercation told Joy News an NPP parliamentary candidate had been ushered to the microphones to address the rally when suddenly confusion broke out on the high dais with Adda and Aliu's aide exchanging punches.
Information gathered at the rally indicated that when Kofi Adda took his turn to address the rally, he did not as much as acknowledge the presence of Vice President Aliu Mahama, let alone pay him any courtesies.
After his address, he descended the dais and went away. Aliu Mhama is said to have called him to ask him what was going on that so prevented him (Adda) from saying even a word to him, to which Adda is said to have retorted that nobody liked him.
Aliu Mahama is reported to have reprimanded Adda for saying that, after which Adda left the scene. He however returned shortly after to also rebuke the Vice President, an action that did not sit well with the Veep's aide who tried to intervene and which ended up in the exchange of blows.
(Listen to Gordon Adda's narration of what transpired at the Navrongo rally.)
Story by Isaac Yeboah