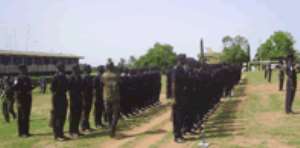 The police administration spends more than GH¢100,000.00 a year on hotel bills to accommodate officers who are unable to secure official accommodation after furthering their education in tertiary institutions.
Mr Patrick Kwarteng Acheampong, Inspector-General of Police, who made this known in Cape Coast on Tuesday, said each year, about 150 of such personnel, completing their courses, had to be accommodated in hotels, due to the unavailability of official accommodation for them.
The IGP said this at the inauguration of two completed blocks of flats at a cost of GH¢240,000.00 each for personnel of the service at the Central Regional Police command, which were begun and abandoned in 1972.
He said within the last three to four years, a lot of buildings had been completed for the service and that similar accommodation of eight, six and four blocks of flats, in the Ashanti, Northern and Volta Regions respectively, had been completed and were ready to be handed over.
The IGP said a new divisional headquarters is also under construction at Tafo and expressed his appreciation for the improvement in accommodation for the police.
He said personnel of the service were also to benefit from 200 flats under the Government's Affordable Housing Project and reiterated an earlier call by the Regional Minister, Nana Ato Arthur, for the establishment of a "Security Fund" to cater for the improvement of infrastructure for the service.
Mr Acheampong described the suggestion as important and said for instance, the service needed to provide shelter for the many victims of domestic violence.
He urged Ghanaians to impress upon Parliament the importance of such a fund to improve facilities for the police.
Nana Arthur, who joined the IGP to inaugurate the buildings, assured the police of government's commitment in ensuring their wellbeing and expressed the hope that in the next three to four years, all police personnel, particularly those in the region, would have decent accommodation.
Source: GNA