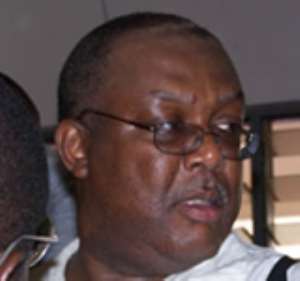 Victor Smith, former aide to President Rawlings, says he still stands by his allegations that President Kufuor engaged in an illicit business to the tune of $5.5 billion with an Arab finance company with interest in oil.
According to Mr. Smith, who is also the publisher of the Weekly Standard Newspaper, the President of Ghana misappropriated the said amount and could only pay back $4 billion.
Attempts by the oil company to retrieve the deficit of $1.5 billion proved futile and therefore threatened to take legal action against the President at a London court.
Mr. Smith further alleged that two high profile personalities in the world intervened to save President Kufuor from any embarrassment, prompting the transfer of the case to the court of arbitration in Hague to be resolved privately.
The allegations have been described as pure fabrication to denigrate the high office of the President.
A press statement released yesterday by Press Secretary to the President, Andrew Awuni, gave a 14 day ultimatum for the allegations to be substantiated or the president would resort to legal action.
In his reaction on Front Page, a Joy FM news analysis programme on Friday, Mr. Victor Smith downplayed the threat of the court action, but insisted his allegations were genuine.
When asked to provide evidence, Mr. Smith confessed he only had hearsay evidence with no documents to back his allegations.
"I don't have documentary evidence, I would have told you if I had," he snapped
According to him, he is ready to go to Parliament or the Commission on Human Rights and Administrative Justice when he is called to provide evidence for the two state institutions to investigate the matter.
Mike Ocquaye Jnr. a legal practitioner and an NPP activist who was also on the show, requested for at least basic evidence to be provided as a mark of respect to the people of Ghana on whose behalf Mr. Smith said he was fighting.
He described as unfair the act of making such serious allegations, without any evidence and expecting the whole President to prove his innocence.
"Why would you make such serious allegations in public and say you give us evidence in private," Mr. Ocquaye added.
He challenged Mr. Smith to either put up or shut up.
He accused Mr Smith of using the allegations as a diversionary tactic to keep Ghanaians from the achievements of the NPP government.
Story by Nathan Gadugah