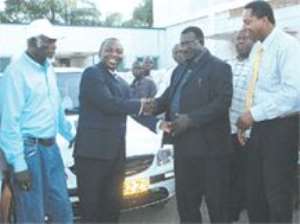 The Ghana Private Road Transport Union (GPRTU) of the Trades Union Congress (TUC) has taken delivery of 300 Tata Indigo saloon cars from the PHC Motors for distribution to its members across the country to be used as taxis.
The saloon cars, allocated to all the regional branches of the union, are given to the beneficiaries in a hire purchase deal, which lasts for five years.
It was funded by IC Securities (Ghana) Limited at a cost of $3.6 million.
Handing over the vehicles at a ceremony in Accra, the Executive Director of IC Securities, Mr Kwabena Osei-Boateng, was gratified that the collaboration between IC Securities, PHC Motors and the GPRTU, which had been on the drawing board for sometime now, had been sealed with the official handover of the first batch of saloon cars to the Union.
He implored beneficiaries to pay their instalments on schedule so that the money could be reinvested for other members to also benefit from the package.
Mr Osei-Boateng advised the GPRTU members to take good care of the cars by ensuring regular maintenance so that their investments would not go to waste.
Mr Paul Pepera, Managing Director of PHC Motors, urged the beneficiaries to make use of the company's workshops in Ho, Takoradi, Tarkwa, Koforidua, Tamale, Kumasi and Accra to service their cars regularly and promptly to prolong their life span.
He was hopeful that the delivery of the cars would improve transportation and enhance the livelihood of many people.
 GPRTU chairman, Alhaji Yaw Manu, expressed gratitude to IC Securities and PHC Motors for their support and entreated beneficiaries to take good care of the vehicles.