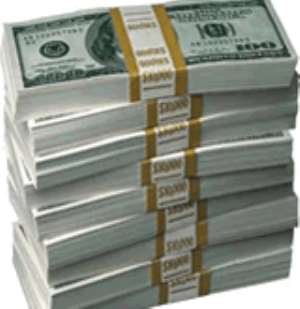 The Bank of Ghana (BoG) has, with effect from next Monday, fixed $10,000 or its equivalent as the highest sum of money permitted to be carried by an individual arriving in the country.
Reacting to reports of large sums of money in foreign currencies pouring into the country through the Aflao Border Post, the Central Bank directed that any amount in excess of $10,000 or its equivalent in other foreign currencies and intended to be brought to Ghana or in transit should be transferred through a bank or any other authorised dealer.
The new directive means that from Monday, residents and non-residents travelling to Ghana are permitted to carry up to $10,000 or its equivalent in any other monetary instrument.
Sources close to the National Security Council told the Daily Graphic that about $13 million was brought into the country through the Aflao Border Post a week, adding that the figure was increasing to about $21 million a week.
Investigations by the council further revealed that in one instance, one family alone crossed the border into Ghana with money in excess of $13 million between August 17 and 23, 2008.
According to the investigations, the process of checking the money had become so laborious that the Customs, Excise and Preventive Service (CEPS) had been compelled to buy money counting machines for the Aflao Border Post.

In view of the worrying trend, the sources said, the law enforcement agencies and the BoG had intensified monitoring and enforcement at the country's points of entry and exit to prevent law breakers from denting the macroeconomic stability established by the government over the years.
They said the action taken by the Central Bank and the law enforcement agencies would go a long way to prevent proceeds from money laundering being used to finance drug trafficking and other crimes in the country.
The sources advised the general public to be guided accordingly.
Meanwhile, a notice signed by the Secretary to the BoG, Mr Alex Bernasko, reminded travellers to make declarations to indicate that they were carrying amounts in excess of the stipulated $10,000 at the point of entry.
The Central Bank said the transportation of currency or monetary instruments was legal but advised travellers who brought in or took more than $10,000 or its equivalent in any other monetary instrument or both to declare at the point of entry whether they carried the money themselves or requested someone else to carry the instruments on their behalf.
The bank warned that failure on the part of travellers or their agents to declare, or failure to report the total amount that they were carrying, might lead to the seizure or forfeiture of all the currencies or monetary instruments. Travellers might also be subjected to penalties or criminal prosecution.
The notice explained that the monetary instruments included coins, currencies, travellers' cheques, stocks and bonds.