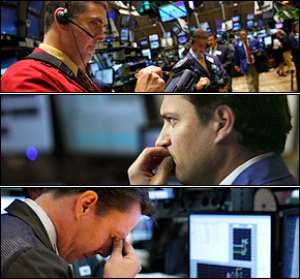 World stock markets have plunged after government bank bail-outs in the US and Europe failed to stem fears of slower global economic growth.
London's key UK share index lost 7.85% - its biggest percentage fall since 1987 and in Paris the Cac-40 suffered its largest fall on record.
On Wall Street, the Dow Jones fell below 10,000 points for the first time since 2004.
Investors fear that official action might not be enough to stem the crisis.
This was despite a $700bn (£398bn) US bank bail-out being passed late last week, and efforts by several European countries including Germany and Denmark to boost confidence in their banks.
"The fact is people are scared and the only thing they're doing is selling," said Ryan Detrick, senior technical strategist at Schaeffer's Investment Research.
"Investors are cleaning out portfolios and getting rid of everything because nothing seems to be working."
Restoring confidence
President George W Bush said on Monday that it would take some time for the rescue plan to restore confidence to the financial system.
He said it was important that the programme was implemented properly and to make sure it did not waste taxpayers' money.
"We don't want to rush into this situation and not have the programme be effective," he said.
"It's going to take a while to restore confidence in the financial system."
'Substantial force'
In an attempt to reassure investors, the President's Working Group on Financial Markets, said on Monday that it was moving quickly to exercise the new powers it had been given as part of the Wall Street rescue package.
The group, which was formed after the 1987 stock market crash, said it would move "with substantial force on a number of fronts".
As one of the first effects of the rescue plan, the Federal Reserve announced that it would start paying interest on the reserves that banks are forced to deposit at the central bank.
Analysts said that Germany's increased 50bn-euro ($68bn; £38.7bn) bail-out of Hypo Real Estate, the country's second-biggest commercial property lender, had alarmed investors.
Earlier, Germany had appeared to announce an unlimited guarantee for private savings - though it later said this was not the case and it had instead given only a "political commitment" that savers would not lose deposits.
However, Denmark had already moved to offer full protection, while Sweden massively increased the level of protection it offered.
'Collective action'
The Hypo RE rescue came amid other developments including:
Denmark, Sweden and Iceland increased the amount of protection depositors in their banks receive. Iceland also agreed measures for the country's banks to sell off some foreign assets in an attempt to shore up its entire financial system
EU leaders issued a joint statement saying they would take the necessary measures to protect both the system and individual depositors
Trading in shares of Benelux bank Fortis was suspended, on the day BNP Paribas took a controlling interest in the troubled finance group under an emergency deal with the Belgian and Luxembourg governments
Central banks across Europe - including the ECB and Bank of England - offered more than $74bn to banks in short-term loans in separate efforts aimed at trying to making cash available for the banking sector
International Monetary Fund managing director Dominique Strauss-Kahn said Europe needed a collective response to the financial crisis and warned countries not to act alone
Spanish Prime Minister Jose Luis Rodriguez Zapatero and French President Nicolas Sarkozy arranged meetings with the heads of their respective country's main banks to discuss the global financial crisis - and said the two leaders would meet later this week.
Markets suspended
In London, the FTSE 100 index ended down 391.1 points, or 7.85%, at 4,589.2 - having lost 8.5% at one point.
Germany's Dax index lost 7.39%, while France's Cac-40 index dropped 9.04% - its biggest one-day fall since the index was created in 1988.
On Wall Street, the Dow Jones index pulled back some losses but was still 4.05% lower, down 418.39 points, at 9,906.99 points, while the Nasdaq lost 4.93%.
Earlier, Japan's Nikkei index had closed down 4.3%, or 465 points, at 10,473.1 - its lowest close since February 2004. Hong Kong's Hang Seng index slid 5%, while key Russian markets slumped by 15%.
Markets in India, China, Australia and Singapore also lost ground, while the main Indonesian market lost 10% - the biggest one-day fall on record.
Trading on key stock markets in Brazil and Russia was temporarily suspended after share prices plummeted by 10% and 15% respectively. Russia's RTS index ended 19.1% down.
The prospect of a slowdown denting energy demand saw oil prices fall further, dipping under $90 a barrel.
In London Brent crude dropped $3.38 to $86.87 a barrel, while US light, sweet crude fell $3.85 to $90.05 a barrel.
Source: BBC