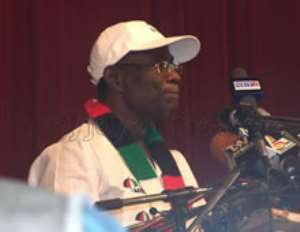 The flag-bearer of the NDC, Prof. John Atta Mills says the quantum of wealth "the Kufuor administration in seven years has been able to amass is ridiculous".
He said the president's son acquired an $8 million hotel within one month of President Kufuor's coming into office.
"We've complained about corruption in this country…what does one want? President Kufuor comes to power and within one month, his son is able to acquire an $8 million hotel," he said.
Prof. Mills said these in an exclusive interview with The Africa Report and published in the Thursday, October 2, 2008 edition of the Daily Dispatch.
He said, "look at them, look at their convoys, look at how they are spending. Talk to any business person in this country. The new developments going up, they (the NPP) are behind them all. The ordinary Ghanaian is suffering".
Touching on the elections, particularly the ability of the Electoral Commission to conduct free, fair elections, Prof. Mills said there were worrying signs.
He said there were problems relating to registration, violence in certain areas, attempts to cheat, intimidation, harassment and so on.
"They are talking about more than one million extra votes on the register that cannot be accounted for. There is something seriously wrong and something has to be done about it," he stated.
On drugs, the NDC flag-bearer said he cannot create a new police service but he will make sure that the service is honest and credible when elected president.
"Clearly, I don't know whether ministers (are involved in the drug trade) or not, but people who are close to power, people who can take steps to minimise the drug trade, are obviously not doing so," he noted.