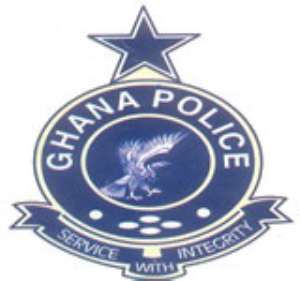 The Koforidua police have arrested a 30-year-old man, Abraham Narh, who is alleged to have shot dead one Stephen Tetteh at Huhunya, near Koforidua.
The deceased, who was said to have refused a request from Narh to join his armed robbery gang, was found dead in his house at Huhunya in the early hours of last Thursday, September 25.
Two others, Korkor Atteh, 25, said to be Tetteh's sister, and Narh's girlfriend, and Nathan Komlon, 23, suspected to be accomplices in the murder, have also been apprehended.
Briefing the press in Koforidua last Monday, the New Juaben Municipal Police Commander, Superintendent John Naami, said on September 24, this year, Narh asked Tetteh to join an armed robbery gang of which he (Narh) was a member.
He said Tetteh declined the request and reported the matter to a prominent person at Huhunya who advised him to report it to the police.
According to Supt Naami, Tetteh, however, did not report to the police but went home. He was found dead in the house the following day, his body riddled with bullets.
He said police investigations led to the arrest of the suspect, who had in his possession a locally manufactured gun and substances believed to be Indian hemp.
Supt Naami stated that Narh, who the police said was once a convict, told the police that he had shot Tetteh because he had been contracted to do so by a group of people who accused him (Tetteh) of being responsible for the death of their relative.
The police commander said when Narh was questioned about the Indian hemp in his possession, he said he had assisted some farmers who cultivated the plant and it was they who had given the stuff to him as payment.
The suspect later led a police contingent, under the command of ASP Manase Nyasem, who is in charge of Operations in the region, to the farm, where four persons — Joseph Tetteh, Comfort Koryo, Dawutey Emmanuel and Ben Anterkyi — were arrested.
ASP Nyasem said the four, who were apprehended while they were busily working on the farm, had also been placed in cells, while further investigations continued.
The body of the deceased has been deposited at the morgue of the Regional Hospital, Koforidua, while the suspects have been put in cells at the Koforidua Central Police Station.