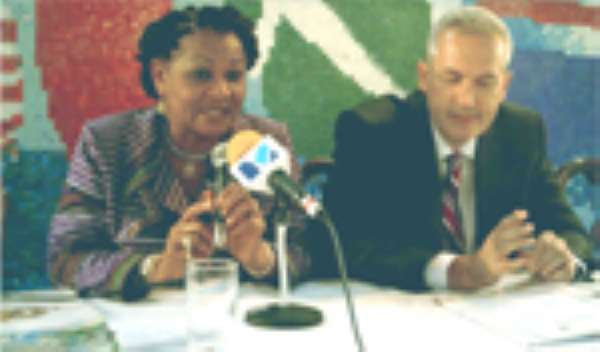 With effect from July 1, 2008, mining and steel mills companies operating in the country will pay new electricity tariff, higher than what they used to give.
The firms, including AngloGold, Newmont and Tema Steel Works, will pay a Bulk Generation Tariff of 16.91 percent, translating into an End-User Tariff of 22.31 Ghana pesewas per kWh.
The decision comes at the request of the Volta River Authority (VRA) and the Electricity Company of Ghana (ECG) which on June 16, 2008 announced some adjustments in electricity Special Load tariffs- High Voltage customers for high voltage consumers.
It is also part of moves to help resource the VRA and ECG, Dr. Anthony Akoto Osei, Minister of State in charge of Finance and Economic Planning disclosed at a press interaction yesterday.
The escalating crude oil prices which reached $137.88 per barrel yesterday threatened to throw the budget out of gear, reducing the country's foreign exchange reserves, and inflaming inflationary pressures.
This according to the Minister of State necessitates the moves plus a combination of measures to mitigate this development.
In addition to the increase in tariffs for the high voltage users, the use of the hydro component for generation will be increased, while the emergency power plants will be shut down, Dr. Akoto Osei added.
Also, some free flow of gas from the West Africa Gas Pipeline has started, and the supply is expected to be accelerated.
On VALCO, Dr. Akoto Osei said part of the company's shares will be offloaded to other partners in due course.
Since the 2006 supplementary budget, divestiture targets have not been achieved as programmed.
However, Dr. Akoto Osei explained that work is almost complete to substantially enhance divestiture receipts to close the gap that will be created by the relief measures announced by President John Agyekum Kufuor.
The enhancement in divestiture receipts will improve the fiscal position of the budget and shore up foreign exchange reserves, reducing the pressure on the Ghana cedi.
Meanwhile information reaching CITY & BUSINESS GUIDE indicates that Vodafone of UK is in pole position to take over state-owned Ghana Telecom (GT).
The UK company, according to reports, is looking at the Ghanaian market to break into the West Africa telecommunication industry.
GT was supposed to have been awarded to France Telecom after the French company won the bid to take over the affairs of the company until government stepped in, asking for a new price of $1 billion.
By Charles Nixon Yeboah