Cocaine In Police Black Maria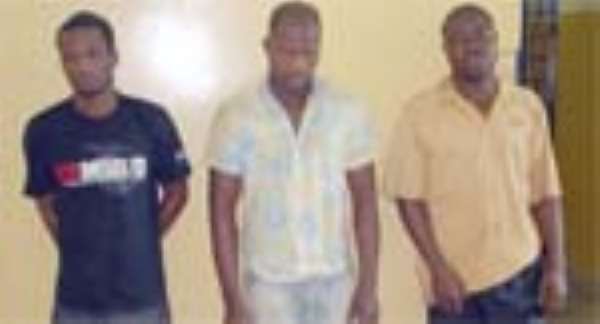 Armed policemen have mounted a 24-hour guard on the parcels of cocaine seized last Friday at Nsawam in the Eastern Region.
The stuff is, in an unusual procedure, being kept in a Black Maria truck at the Police CID Headquarters instead of the Exhibits Room.
It is still sitting in the Black Maria vehicle which conveyed it from Nsawam soon after its inception during police operation.
Last Friday, the Nsawam and Kibi Police impounded 399 parcels of cocaine on board a vehicle with registration number GT 3359 Z.
The vehicle belonged to Evolve Logistics Company located at Teshie, Accra.
The operation was informed by a tip-off according to the Kibi Divisional Police Commander, Chief Superintendent Owiredu Nkansah, who added that the stuff was being transported from Guinea via Kumasi.
Three persons, Kofi Amenu, 30, the driver, Anane Kwabena, 34 and Deble Kofi, 35 are assisting in Police investigations and will soon be put before court.
According to police sources, the cocaine was concealed in a hidden compartment of the vehicle which was carrying cattle hide, popularly called 'Wele' and legs to deceive security operatives.
Observers at the Police headquarters have jokingly said that the unusual procedure is to avert a situation where the stuff could go missing, like in previous cases.
The standard procedure is for the impounded stuff to be kept in the Exhibits Room but with this location having failed to be a safe haven for such materials, the Police would prefer keeping it in the Black Maria for a while perhaps.
According to the Director of Police Public Affairs Directorate, DSP Kwasi Ofori, the stuff was conveyed to Accra in a Black Maria truck used to transport hardened criminals.
He told DAILY GUIDE that the Police does not want to take chances and so would rather the stuff is kept onboard the vehicle prior to the completion of certain procedures.
It is expected to be discharged this morning in full glare of the media and security operatives.
A preliminary test by the Narcotics Control Board (NCB) personnel after the seizure has established that the stuff is cocaine.
DSP Ofori went on to state that the Ghana Standards Board (GSB) would undertake a detailed forensic test to confirm the NACOB position.
The cocaine, DSP Ofori said, has been handed over to the head of Organised Crime Unit of the Criminals Investigations Department (CID) of the Police, Chief Superintendent Vincent Dedzo.
By A.R. Gomda