Ashanti Region CPP Secretary calls for expulsion of Blay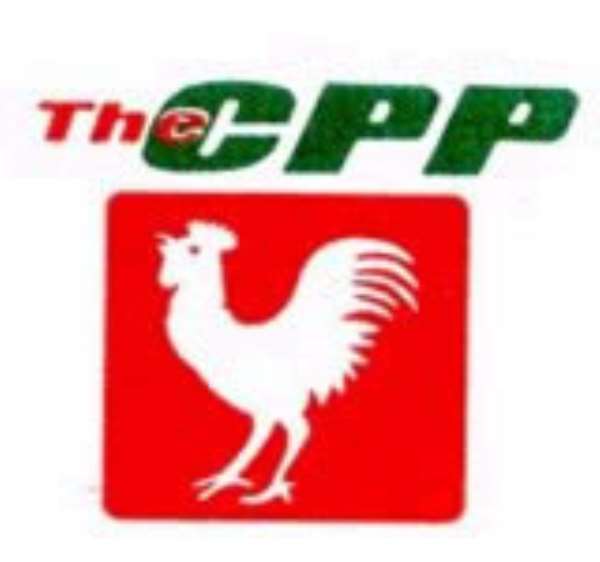 Kumasi, May 14, GNA– Mr Akwasi Bosompem Boateng, Ashanti Regional Secretary of Convention People's Party (CPP), has called on the leadership of the party to immediately sack Mr Fredie Blay, Member of Parliament (MP) for Ellembele, from the party for breaching its constitution.
Mr Boateng said the recent pronouncement by Mr Blay, who is also the first Deputy Speaker of Parliament, to the electorate in his constituency to vote for the New Patriotic Party (NPP) flagbearer was a violation of Article 77 (A) (iii) of the CPP's constitution.
A statement signed by Mr Boateng and issued to the media in Kumasi, said the pronouncement by Mr Blay was "discouraging and this requires a bold decision by the leadership of CPP so as to deter individuals who only seek cheap political opportunities and personal aggrandizement by suppressing the high spirit, enthusiasm and patronage that has been generated by the leadership since its election into office in December 2007."
It stressed that it was unfortunate that at this crucial moment when most of the youth and suffering masses were clamouring for CPP as the only alternative to the visionless NPP and National Democratic Congress (NDC), certain opportunists like Mr Blay who claims to be true Nkrumaist were not contributing to the progress of CPP, but instead working against the CPP's efforts to win political power in election 2008."
The statement, however, called on members and sympathizers of the CPP to take advantage of the factionalism and divisive tendencies being exhibited by the NPP at its vetting and primaries to elect parliamentary candidates and work extra hard to win political power in the 2008 Election.
It said "What is most important for Nkrumaists is for all of us to disseminate and market CPP's achievements and vision as well as the experience and capabilities of Dr Paa Kwesi Ndoum to Ghanaians. This is because Dr Ndoum has in-depth understanding and grasp of the various sectors of the economy, with an independent mind to salvage the masses from our state of division, tribalism, economic hardship and misery. This is clear by the comprehensive presentation of his vision on energy at the KNUST, recently."
The statement urged CPP members and sympathizers to be steadfast and resist political parties and politicians who only came to them at elections just for personal ambitions.