Sharif Vows To Restore Judges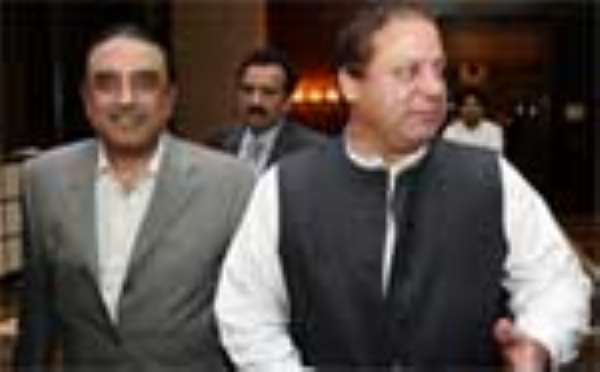 Nawaz Sharif, Pakistan's former prime minister and head of the Pakistani Muslim League-N (PML-N), has vowed to reinstate the country's judges sacked last year by Pervez Musharraf, the president.
The structure of the country's judiciary had threatened the future of his party's alliance with the Pakistan People's Party (PPP), headed by Asif Ali Zardari.
Sharif made the announcement on Thursday during talks in Dubai with Zardari.
He said: "It has been decided and reiterated that the restoration of the judges will take place as per the Murree declaration."
"There is no ambiguity, there is no doubt about it. You will soon see the results of the discussions."
Zardari and Sharif met in Dubai for the second consecutive day in a bid
to resolve differences over reinstating judges removed when Musharraf imposed emergency rule in November last year.
"We will not sit with peace until the judges are restored. We are trying our level best to stay together in the coalition and return all the judges back to their offices with honour and dignity," Sharif said.
"I am trying my level best to make sure we fulfil the commitment we made to the nation on the restoration of judges."
Lack of confidence
The committment refers to the March agreement between the PML-N and the PPP.
Al Jazeera's Kamal Hyder, reporting from Islamabad, said that Pakistan is going through a critical stage.
He said: "While the country is going through a major political development, the political leadership is seen as wrangling for weeks over issues that should have been resolved, and this does not build the public's confidence in these politicians."
The potential collapse of the coalition could be to Musharraf's advantage.
The PML-Q, the main pro-Musharraf party says it will work on its own proposal for restoring the judiciary and consider joining a new ruling coalition if the current one breaks up.
'Divided coalition'
Sharif had said the future of the coalition with the PPP would come under review if they failed to agree on the judges issue.
The PPP wants to link the restoration of judges to a proposed package of judicial reforms that could limit the powers of Iftikhar Mohammed Chaudhry, the chief justice of the supremem court, and prevent judges from getting involved in politics.
Zardari accused Chaudhry and other judges of "playing politics" and failing to deliver justice to him during the years he spent in jail on alleged corruption charges.
"Our parliamentary party and the central working committee will meet to decide about it," Sharif said when asked about the future of the coalition if the judges were not restored.
Musharraf removed Chaudhry when the supreme court was preparing to rule on the legality of his October election by the previous parliament to a new five-year presidential term.
Musharraf accused Chaudhry of corruption and conspiring against him and political plans.
Chaudhry is considered by many as an "independent-minded" judge, who has blocked numerous government privatisation deals and investigated complaints that the country's spy agencies were holding opposition activists secretly under the pretext of the so-called "war on terror". Aljazeera