Recruiting of "macho men" not the answer - Afari-Gyan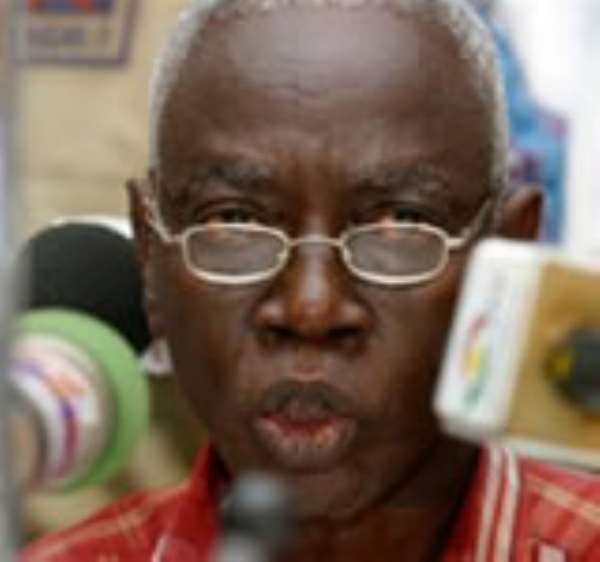 The Chairman of the Electoral Commission (EC), Dr Kwadwo Afari-Gyan has advised the various political parties to recruit knowledgeable and competent people, who are well versed in the electoral process as their polling station agents, and not macho men, to forestall any conflicts and doubts during elections.
He pointed out that recruiting macho men would not solve any problem, because it was not the size and stature of a person that was important, and stressed that a knowledgeable and efficient agent would know what was expected of him or her.
Dr Afari-Gyan, was addressing a 'special regional inter-party advisory committee forum' on "building stakeholders' confidence in the outcome of the 2008 elections" at Cape Coast.
The forum is being organized by the EC with support from the Friedrich Ebert Stiftung (FES) and KAB Governance Consult, to enable political parties to regularly discuss pertinent issues facing the management of elections in the country.
This he said would foster inter-party dialogue and cooperation to help eliminate mistrust and suspicion among them.
The EC Chairman, also deplored the situation where some parties recruit people who are not even their agents, and who know nothing about what was expected of them at the polling stations, only to challenge the results of the elections.
According to him, the country was among a few countries in the sub-region, which allowed party agents at polling stations to monitor elections as part of their internal checks and urged political parties to train their agents well and also educate them about the process to forestall unnecessary challenges.
He emphasized that the Commission was neutral and therefore could not be intimidated by the structure of macho men, adding that political parties cannot dictate to the Commission, but can make suggestions, and seek redress to their grievances in court.
Dr Afari-Gyan said journalists could announce provisional results from polling stations, because no one can change the results, which polling station officials and agents had signed and assured that the EC had over the years
built an electoral process that is transparent, and Ghanaians trust in the integrity of the electoral process.
Ms Kathrin Meissner, Resident Director of the FES said the "whole world was watching Ghana in her next elections to see whether she could maintain the image of being perceived as the "good example of Africa in terms of successful democratic transition and a stable economy".
"I hope that Ghana will be able to show the world, that elections in Africa do not have to go the way it did in Kenya and Zimbabwe", she said, adding that, "show the world that the citizens and the political parties are mature enough to accept the free decision of the majority".
Ms Eunice Roberts, a member of the EC, who presided, urged political parties to educate their supporters to be tolerant and refrain from pronouncements that inflame passions.