Taskforce to tackle global food crisis set up by UN Chief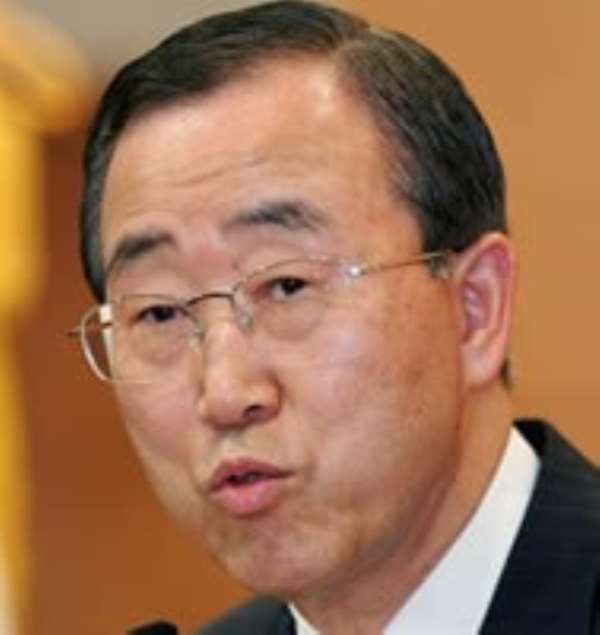 The United Nations Secretary-General, Ban Ki-moon has set up a task force to immediately tackle the global food crisis.
The task force will seek to device ways in which poor countries will be protected from the global food and financial crisis.
The world is currently facing rising prices of food and crude oil which threaten to cause recessions in some economies.
Mr. Ki-moon was speaking at the opening of the 12th United Nations Conference on Trade and Development (UNCTAD) in Accra.
He said trade was one sure way by which the world could get out of the numerous problems facing it.
The UN boss urged participants at the conference to work towards addressing the economic crisis which according to him required urgent attention.
"We here the call of the least developed countries to deal with market failures and stabilise world food prices.
"The task force must also deal with the longer time food security issues of agriculture productivity land utilisation, financing mechanisms and all other elements of the current crisis", he stressed.
Mr. Ki-moon also urged worled leaders to as a matter of urgency sit together to deal with the crisis.
Speaking at the opening ceremony, President Kufuor expressed the hope that the participants had come with ideas that could help resolve the crisis.
"The peoples of the world especially the millions of deprived populations of developing nations expect definitive time bound actions that will impact positively on the quality of their lives.
"This conference must therefore come up with credible proposals to empower UNCTAD to deliver on this very challenging mandate", he stated.
The session was chaired by the Brazilian President Lu La da Silva who emphasised the need for South-South cooperation.
He hosted the last UNCTAD.
Story by Malik Daabu