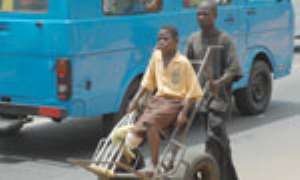 A holiday fun has cost a 12-year-old boy a limb and he now goes to school in a wheelbarrow, pushed by his father.
In October last year, Ali Alhassan, a Class Two pupil of the Nima 1 and 2 Cluster of Schools, joined other children at the Efua Sutherland Children's Park during the Sallah holiday to have fun when unfortunately he slipped on a train ride and had one of his legs trapped under the wheels.
The condition of his leg was so bad that doctors at the 37 Military Hospital had no option than to amputate it.
The boy's father, Abdul Alhassan, a security man at PHC Motors who now has an additional task of taking the boy to school on a wheelbarrow, narrated to DAILY GUIDE how news about the accident came to him.
"It was a Sallah day and I was at home with Ali's siblings when word came to me about the accident," he said.
The security man said it was other kids on the train who raised an alarm on noticing that Ali's leg had been trapped under the train.
Continuing, he said the leg was so badly damaged that doctors had to amputate it at a cost of Gh¢610, with the management of the children's park supporting him with Gh¢370.
The distressed father lamented: "My son is incapacitated and I have to carry him to school every morning and back on this wheelbarrow instead of making him board a car.
In fact, I seriously fear for his future since he may not be able to do most things on his own."
The boy's father further indicated that there was another problem of occasional bleeding from the point of amputation. "He bleeds occasionally and requires weekly check-ups, re-bandaging and medication, increasing the financial burden on me," he said.
Abdul Alhassan is therefore pleading for assistance from organizations and the general public to enable him take care of the boy's needs.
Mr. Peter Eduful, the Acting Executive Secretary of the Department of Children at the Ministry of Women and Children's Affairs, said the boy was suspected to have entered the park illegally and therefore rode on the train without a guide.
Mr. Eduful, who is also the Director of the park, added that the train driver had on two occasions refused to allow the boy get on board the train and that it was during his third attempt that the incident occurred.
"Not withstanding all these, we have decided to take half of his medical cost," he said, adding that there are no funds for such mishaps but they only decided to help.
He gave the assurance that the management of the park would support the boy's father if there is the need for him to have an artificial leg.
The train at the Children's Park, known as 'Joytrain' was donated by the Indian government and has no insurance cover.
By Emmanuel Kubi