Tension on Ghana's high seas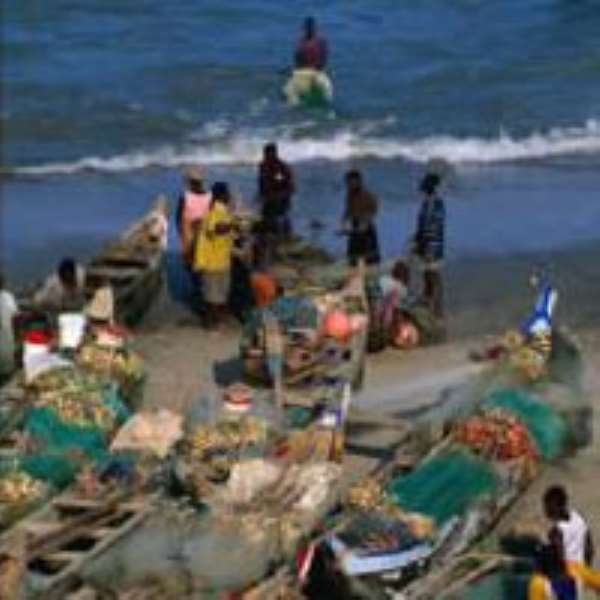 There is raging conflict between some Ghanaian fishermen and their Chinese counterparts over the alleged destruction of fishing nets by Chinese fishing vessels.
Ghanaian fishermen who ply their trade in Half Assini, Dutch Komenda, Shama and Sekondi, all in the Western Region, say the Chinese destroy their nets with their huge fishing vessels when they meet on the sea.

They also allege that the vessels employ unorthodox methods, such as the use of high voltage mercury bulbs powered by generators, to attract and harvest fish.
What is worse, they say, the Chinese also do pair trawling, a practice by which two large vessels drag fishing nets between them for long distances to catch fish, something which they have not been licensed to do.
The fishermen told the Daily Graphic that the Ministry of Fisheries had failed to act, in spite of the numerous appeals they had made to it.
They said they had, therefore, armed themselves and prepared petrol bombs with which they would attack the Chinese if the latter provoked them on the sea.
A leading fisherman, Egya Kobina Fynn, said on one occasion he went to sea with 14 nets but came back with only three as a result of the activities of the Chinese.
"I went to sea with 14 long pieces of nets but I came back with only three. Meanwhile, I have three children to feed so how do I feed them? We have been patient enough; we will attack them," he said.
He added that when he drew the attention of the crew of the vessels to the destruction they were causing to his nets, they only laughed at him.
Egya Fynn said the fishermen had abided by a directive by the Ministry of Fisheries to them to display lighted lanterns in their canoes to warn bigger vessels of their presence but said that had not stopped the Chinese from their destructive activities.
Another fisherman, Opanyin Kweku Yedu, who hails from Ahobre in the Jomoro District, said he had gone to sea with 18 nets last Thursday but all were destroyed.
He said when he drew the attention of the Chinese crew to the destruction, they pulled out a knife and threatened to kill him, adding that he had to return empty handed.
When officials of the Ministry of Fisheries in Takoradi were contacted, they confirmed the story and added that efforts were being made to bring the perpetrators to book.
The Western Naval Command, for its part, said it was not aware of the situation.
According to experts, pair trawling is dangerous to marine life, since the nets sweep the sea bed and destroy the breeding grounds in the ocean.