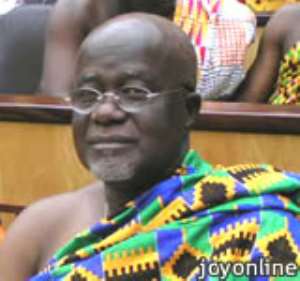 The Former Works and Housing Minister, Mr. Hackman Owusu-Agyemang says his decision to seek re-election as the Member of Parliament for Juaben is in the interest of Parliament and his party.
Many parliamentarians who have been in parliament for three terms and over, have decided not to seek re-election to allow some fresh faces in parliament.
Some of the NPP flagbearer aspirants like Yaw Osafo Marfo and Dr. Kwame Addo Kufuor have also decided not to contest to focus on their new jobs in the NPP's presidential campaign team.
But Mr. Owusu Agyemang who has been the MP for the Juaben constituency since 1992 has decided to seek re-election.
He told Joy News that both the nation and his party need him in parliament since experienced legislators were needed in the House to strengthen the performance of its functions.
"Almost all the front bench on our side have said they are hanging their gloves but there is [the] need for some of the experienced legislators to stay on so that they can guide the young ones", he noted.
The NPP presidential aspirant said new MPs needed to learn a a lot before they contribute effectively to the work of the House.
Mr. Owusu-Agyeman noted that he was popular enough to win the seat for his party which was the most important thing.
He is currently in charge of finance in the flagbearer of the Ruling New Patriotic Party Nana Akufo-Addo's campaign.