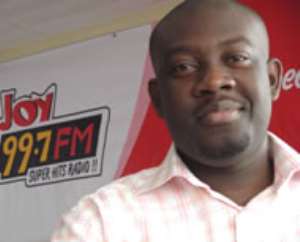 JOY 99.7 FM's Super Morning Show host, Kojo Oppong-Nkrumah is in the United States of America to participate in the joint centennial celebrations of the Missouri School of Journalism in Columbia and the National Press Club.
The two institutions were established within days of each other in 1908.
Kojo is one of four principal speakers selected to speak this week on How Radio and its online component can be used to build a community.
His specific assignment would be to deliver a lecture on March 28, 2008, on the experience of Joy FM in building a strong community of listeners.

He would be away for a week, during which time Akwasi Sarpong will host the Super Morning Show.
Information available on the University of Missouri website names the other speakers as Prof. Karl Erik Gustafsson , a professor of mass media economics at Sweden's Jönköping International Business School who will discuss how government subsidies extend the reach of the media;

Liss Jeffrey, a Canadian researcher and Director of the McLuhan Global Research Network and Electronic Commons/Agora Electronique, which tests the value of new and old media in bridging digital divides and advancing community development, civic participation and cultural content creation will discuss how required courses in news literacy are improving public discourse.
The other two speakers are Geneva Overholser of the United States, who is the Curtis B. Hurley Chair in Public Affairs Reporting at the Missouri School of Journalism and Alan Rusbridger of the United Kingdom, editor since 1995 of The Guardian, one of Britain's top daily newspapers.