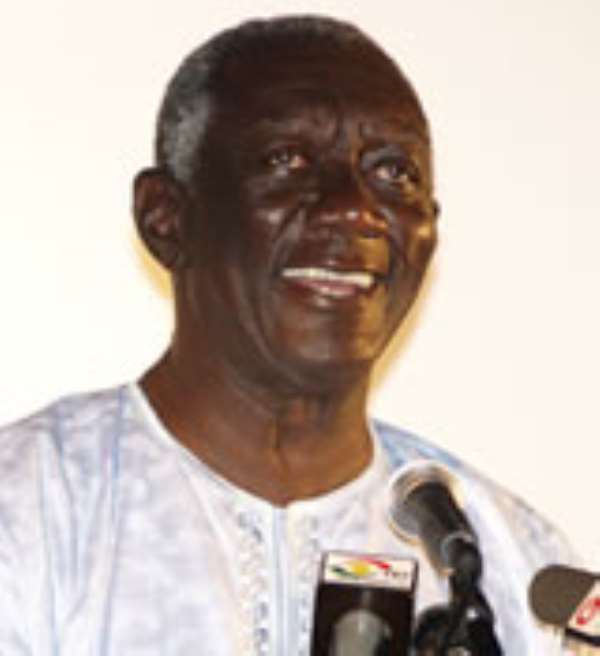 President John Agyekum Kufuor on Tuesday swore into office Dr Richard Anane, Minister of Roads and Highways and Mr Kenwuud Nuworsu, Deputy Minister of Manpower, Youth and Employment.
He administered to them three Oaths: The Oath of Allegiance, Oath of Minister of State and Oath of Secrecy.
Dr Anane, who was in charge of the very same Ministry, resigned his position 18 months ago to clear his name of adverse findings made against him by the Commission on Human Rights and Administrative Justice (CHRAJ) in the Courts.
The CHRAJ had found him guilty of perjury, abuse of office and conflict of interest and recommended to the President to relieve him of his appointment.
He contested this in the High Court and won. Dissatisfied the Commission took the matter to the Supreme Court and here all the adverse findings made against him were quashed.
Performing the swearing in at the Credentials Hall of Castle, Osu, President Kufuor urged Ghanaians to eschew hypocrisy in their public lives.
"We should not lose talents and good people on the basis of unproven perceptions."
He said the exoneration of the Minister by the Court was a landmark in the country's constitutional development, adding that when people had been put before due processes, it was simply unacceptable for anybody to insist that they should be thrown overboard.
President Kufuor said if the Courts had held a case against the Minister, who he described as capable and hardworking and credited for playing a major part in the success story of the Government for the efficient manner he performed at the Ministry, there was no way he would have been re-appointed.
He also had glowing words for Mr Nuworsu, saying "I know him for his talent for fearlessness, hard work and intelligence."
President Kufuor said he had no doubt that the Deputy Minister had a lot to contribute to the nation.
Mr Nuworsu's appointment was not without controversy as Parliament had to delay its approval for about six months to allow for thorough investigation into allegations of impropriety at his former NADMO Office.
President Kufuor reminded the two that once they had accepted to serve in public office they should careful in whatever they did.
Dr Anane, on behalf of his colleague Minister thanked President Kufuor and the entire nation for the opportunity given to them to serve the country.