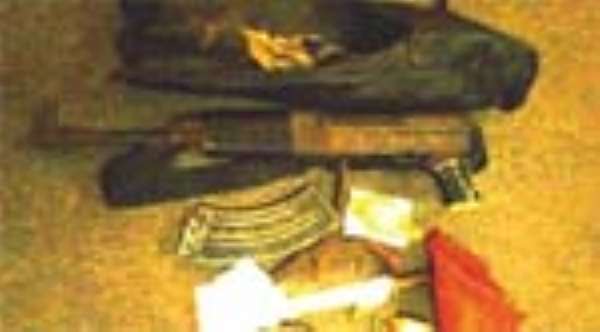 THE AFLAO Police have arrested two suspected armed robbers who allegedly bolted after an abortive attempt to rob two men at gun point at the Apedido border near Aflao Avoeme in the Volta Region.
The alleged robbers, Amarkwei Lasivi, 28, and Amuzu Kuada alias Pepper, 25, were said to have stopped a motorbike on which the victims were traveling and attempted to rob them of their belongings and the motorbike. But upon realising that one of the victims was their brother, the suspected robbers rescinded their decision and freed them.
They were later arrested together with six others including Atitso Kwame, 28 and Kofi Armah 19, believed to be part of the syndicate. When a search was conducted in their homes, AK 47 riffle No. 69454 with magazine of 28 rounds of ammunition, a locally manufactured pistol, revolver and dagger were found.

They had since been put before the Ho Circuit Court and remanded in prison custody to reappear on February 6, 2008.
Giving details of the case to newsmen in Ho, the Volta Regional Police Commander, ASP Bernard Derry disclosed that on January 19, 2008 at around 9:00pm, the victims, William Kumakpor and Egbor Koshie were riding on a motorbike to a village near Aflao and on reaching the Apedidor border, they were stopped by the two main suspects.
He said after they had been set free by the robbers, one of the victims reported the issue to their assemblyman, who in turn informed the police. The police immediately dispatched a 16-member team accompanied by the victim and the assemblyman and led by the District Commander, ASP Issah Yakubu to the hide-outs of the suspects.
There, Kofi Armah and Atitso Kwame were arrested together with the two main suspects, and when a search was carried out in their rooms, the arms and ammunitions were found. Dried leaves suspected to be Indian hemp were also found wrapped in cement paper.
Mr. Derry noted that upon interrogation, Amuzu claimed ownership of the riffle, saying he had it from one Adzamie, a convict in Togo.

He later mentioned one Kwame Elo and the brother who lives in Agbozume as the ones who supplied them with the ammunitions.
With this information, ASP Yakubu led a military team to Agbozume where the two were arrested in addition to Bright Doe Mensah, 15. The team also seized a packet of ammunition and other materials.
In another development, a dawn swoop on some areas on January 1, 2008 by a joint military task force, had led to the arrest of 29 suspects for various offences including the possession of Indian hemp, cocaine pipes, wee bitters, unlicensed motorbikes and illegal trading. They had all been arraigned and 26 of them remanded in custody.
The swoop formed part of measures by the Volta Regional Police Command to clear the region of rogues and their illegal activities, in a bid to ensure peace during the ongoing Ghana 2008 tournament.
Mr. Derry gave the assurance that the police would continue to partner with other security agencies in the region to effectively man the nation's entries to prevent any incident that could undermine the peace prevailing in the country, especially during this football seasonFrom Edem Adesi, Ho