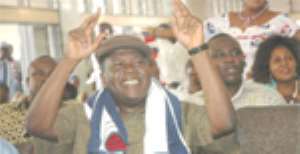 VICE PRESIDENT Alhaji Aliu Mahama has made his first public appearance after his defeat at the New Patriotic Party (NPP) congress.
After a week-long rest after his intensive campaign for the flagbearership slot, Alhaji Mahama addressed thousands of Muslims at the Ghana Muslim Mission Headquarters at Korle Gonno, Accra, during the Mission's 50th anniversary.
Alhaji Mahama used the opportunity to thanked Allah for giving him the chance to be part of the governance of the country, and prayed that Allah would grant him the grace to put his political experience and knowledge at the disposal of the people.
Dilating on the theme for the occasion: 'Ghana Muslim [email protected], Prospects and Challenges', the Vice President said the theme was in line with his leadership ambitions, and said the Mission should be proud of his participation in the NPP presidential race.
He asked Muslims not to see their faith as a limitation to deliver for the growth of the country.
"Of course one must live by the tenets of Islam, but Islam does not expect us to be restricted in the face of the challenges of a global world."
He reiterated the need for Muslims to take secular education seriously, saying, its benefits far outweighed any fear of the faith being diluted. He therefore called on the Mission to lead the crusade to enhance enrollment levels within the Muslim communities.
"It is a fact that if the Muslim community is to be mainstreamed effectively into all sectors of our society, then secular education must be available," he maintained.
The Vice President used the occasion to explain government's development efforts including human resource development, Capitation Grant, School Feeding Programme, National Health Insurance Scheme (NHIS), HIV/AIDS, Hajj, among other things.
On HIV, he asked the Mission to take steps to minimize the effects of the disease on the nation, entreating them to avoid stigmatization and discrimination against people living with HIV/AIDS.
Commenting on the difficulties associated with the annual Hajj exercise, Alhaji Mahama urged Muslims to dispassionately and carefully review the roles of all possible stakeholders. That way, he observed, they could put to rest the problems to enable pilgrims enjoy the holy duty as appropriate.
The Assistant General Secretary of the Mission, Muhammad Kpakpo Addo, disclosed that the Mission was founded in 1957 to explore all possible avenues internally and externally to revive the true teachings of Islam so as to enable the brethren to order their lives in alignment with the spirit of Islam.
The Mission, he said, had broken a number of grounds as its contribution towards national development, especially in the field of education and health. However, he hinted that it was faced with lack of financial resources to revamp the Hijaz Vocational Training Institute and provide buses for Islamic primary and secondary schools throughout the country.
On HIV/AIDS, Mr. Addo reminded Muslims to take serious look at certain traditional Muslim practices such as male circumcision and polygamy which put people at greater risk of the disease. By Sheilla Sackey