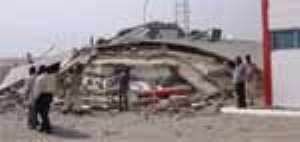 A 75-YEAR-OLD farmer at Odumase Krobo in the Eastern Region, Theophilus Tetteh Padi is fighting for a place to lay his head after a circuit court ordered for the destruction of his four-bedroom house.
Mr. Padi, with a family of six, is fighting also for a plot of land which had been an issue of litigation between him and two other people who claim the land had been sold to them by the Tetteh Padi family.
As a result of the litigation, Mr. Padi filed a suit at the Odumase Krobo Circuit Court in 2002 to restrain the supposed trespassers from encroaching on the land, since according to him, no family member of his had ever sold any piece of land to them.
Speaking to DAILY GUIDE at Odumase Krobo, Mr. Padi appealed to the Chief Justice to ensure justice is done, alleging that in the course of the legal battle, the defendants, Sanny Tawiah and John Kodjiku, managed to influence the presiding judge to give ruling in their favour.
He said he was very surprised at the attitudes of the interpreter and the presiding judge, who he claimed were biased.
"Having seen the direction of the case I petitioned
the Chief Justice, the Presiding Judge of the Koforidua High Court and the Inspectorate and Complaints Unit of the court to investigate the circumstances that led to the demolition of my house, which was not at all situated on the disputed land, upon the orders of Judge Y.O. Kwarteng," he stated.
He said he sought perpetual injunction to restrain the
defendants, Tawiah and Kodjiku, both residents of Nuaso, a suburb of Odumase Krobo, their agents and workmen from encroaching on the land and also for general damages for trespassing.
He alleged that the interpreter and the defendants connived with the court's registrar and succeeded in influencing the then judge, Mr. Alomatu, who also towed their line and started insulting him (Padi) in court.
"Alomatu was transferred in the middle of the case and another judge by name Kwarteng was brought in but the interpreter succeeded in misleading him too, which also influenced him to take sides with the defendants again".
According to him, on October 31 this year, the new judge ordered that his house be demolished with the support of two armed policemen and some hired youth.
Mr. Padi told DAILY GUIDE that the demolition of his house had caused him a lot of stress and mental agony because he had to save his little income from farming over a long period of time to put up the house, which was at the roofing level.
"The money spent so far on the building is about ¢100 million and I want the Chief Justice to order His
Lordship Kwarteng, the policemen who supervised the demolition and the defendants to rebuild my house for me and also pay compensation to me for the stress they have put me into," he stated.
"I also want the case to be transferred to Koforidua to ensure a fair trial of the case, which had run for five years."