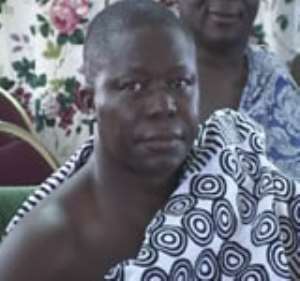 Nana Agyen Frimpong II, Tafohene of Kumasi, has called on parents not to shirk their responsibility of seriously supporting teachers in their efforts to impart quality education and knowledge to their children.

He said, training and educating children involves the collaborative efforts of both teachers and parents at all levels, explaining that as soon as one of them fails to perform, it becomes a problem for the other.

Nana Frimpong was speaking on behalf of the Asantehene, Otumfuo Osei Tutu II at the 10th anniversary celebration and Speech and Prize-Giving day of Charity Preparatory/ Junior High School (JHS) at Bremang New Town, a suburb of Kumasi on Thursday.

He said education plays a unique role in the socio-economic development of every nation and stressed the need for all stakeholders to complement government's efforts aimed at improving the living standards of people.

He congratulated the founder of the school for her selfless devotion to the welfare of the children and hoped that her predecessors would follow suit.

Dr. Mrs. Charity Mensah, Proprietor of the School said the current population of the children from the Kindergarten to the JHS is 600 and that boarding facilities would commence next year.

She said the School's performance in the Basic Education Examination Certificate has been wonderful, stressing that, the children have been scoring 100 percent from 2005 to date with the majority of them entering most of the grade "A" Senior High Schools in the country.

Dr Mensah urged parents to ensure that they encourage their children to be interested in education, since it was the bedrock of human development.

"Do all that you can to provide the basic educational needs of the children and also pay their fees promptly and regularly so that they will be happy and remain in school", she stressed.

She congratulated the teachers for their tremendous contributions to the development of the school and urged them to continue working hard with the view to providing quality people for the nation.