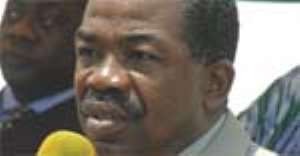 The Chief Operating Officer (COO) of the Local Organising Committee (LOC) for Ghana 2008, Mr. Magnus Rex Danquah has described the working relationship between his outfit and the Customs Excise & Preventive Service (CEPS) as very effective.
He said, "Our arrangements should lead to the drastic reduction, if not total cessation, in contraband trading of the Ghana 2008 ACN products, as well as in the counterfeit and other forms of unlicensed trade."
Commenting on the incidence of frequent arrests by the LOC task force made up of CEPS and other security agencies in recent times, the Chief Operating Officer stressed that due to the complex nature of the situation, the procedures will be subjected constantly to on-going review to ensure even more effectiveness.
The alliance formed between the LOC and CEPS as well as with other security agencies is aimed at clamping down on the illicit production import and sale of goods branded with the name, the logo, the mascot and even the replica or image of the trophy, "all of which are registered trademarks of the LOC of the 26th MTN Africa Cup on behalf of CAF, the rightful owners of the Ghana 2008 Championship."
According to Mr Danquah, in line with the understanding with CEPS, the LOC has provided the Service the list of all importers and traders who have been licensed to deal in Ghana 2008 tournament products.
"The list which will be updated by CEPS upon notification by the LOC will be complemented with physical samples and digital images of the authorised products with their individual salient security features to differentiate genuine items from counterfeits."
Meanwhile, CEPS has undertaken to utilise the World Customs Organization's Customs Enforcement Network (CEN) as an enforcement tool for communicating and soliciting for the support of other nations' customs administrations.By Kenneth Yankah