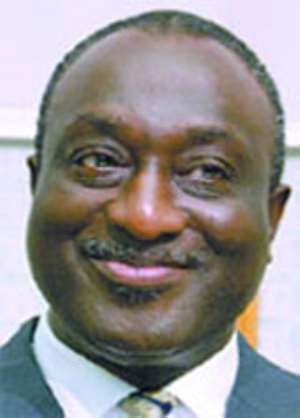 WHOEVER thought John Alan Kwadwo Kyerematen did not feel comfortable being described "Cash Man" when it was first coined for him by The Chronicle must revise his (her) notes. The leading aspirant has finally consecrated on himself the accolade that depicts him as the richest and most ostentatious candidate in the NPP presidential race.
Some members of his campaign team on several occasions had to dissociate themselves from the nickname by saying the media falsely invented it. However, the aspirant has personally endorsed the compliment; "I am Alan Kyerematen, the Cash man."
Alan Cash said this when addressing constituency executives and polling station chairmen last Wednesday in Kumasi.
Kyerematen told party executives from 12 constituencies in the Ashanti Region that he was looking beyond the December 22 congress because as far as he was concerned, the battle was a done deal for him.
"At the moment my headache is how to win the December 2008 general election," he declared. "Because I know with you as the deciders, I have already won the battle for the NPP presidency."
Alan Cash said it was his long-term vision to involve polling station chairmen who might not form a quorum as delegates to vote in the congress. He explained that it was very important for the party's foot soldiers to know the kind of strategies to adopt to be able to convince the electorate to vote for the NPP come next year's elections.
To the aspirant there are only two things in this world that the Ghanaian is expecting from any government: A good job and money to ensure his or her survival. He continued that he was the only candidate who has been championing the cause of providing jobs and bringing cash into people's pocket.
He said it was very important that the party elected somebody who commanded appeal, not only in the eyes of NPP supporters but also, among floating voters and the supporters of the party's opponents. The cash man described himself as the most appropriate candidate who can easily be marketed by the party.
Kyerematen asserted that the party was at a crossroads because the decision delegates make on December 22 would be crucial to the success or otherwise of the party in next year's elections.
The former Trade and Industry minister urged party faithfuls to ignore the lies being made-up about him that he was a new comer in the party and was being supported by the President.
He said he had spent the last 30 years in Ghana and has been supporting the activities of the party and therefore it would be wrong for anybody to describe him as a new comer in the NPP.
"All eyes are set on me because as they say: 'Uneasy lies the head that wears the crown.' People know I am the winner, hence they will do anything to tarnish my image," he stated.