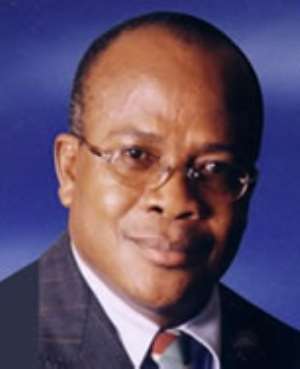 Contributions to a statement made on the floor of Parliament Wednesday on the challenges facing the Audit Service raised tempers resulting in hot arguments between the Member of Parliament (MP) for Upper West Akim, Mr Samuel Sallas-Mensah, and the Majority Leader, Mr Abraham Ossei Aidooh.
While Mr Aidooh insisted that Mr Sallas-Mensah had no authority to direct the Audit Service to conduct auditing on the activities of the Bank of Ghana, the latter said that he had authority as Chairman of the Public Accounts Committee of Parliament to do so.
The statement on the floor was made by Mr Salas-Mensah.
Contributing to the statement, Mr Aidooh said he lad learnt from the press that Mr Sallas-Mensah had ordered that the Audit Service should audit the accounts of the Bank of Ghana in respect of the amount it spent on the re-denomination exercise.
"Mr Speaker, I repeat that Mr Sallas-Mensah has no mandate to do so," he said, adding that it was important for the Audit Service to always do an independent work without succumbing to pressures from any quarters.
It took the diplomacy of the Speaker, Mr Ehenezer Begyina Sekyi Hughes, to end contributions on the statement in order to calm down tempers.
Presenting the statement earlier, Mr Sallas-Mensah said there was low morale among staff of he Audit Service due to low salary levels and that there was labour agitation, which could lead to industrial action if the situation was not properly handled.
He explained that the service had been unable to audit all the entities required under the laws of the country, while training had not been organised regularly to keep operational staff informed about modern and emerging methodologies in auditing.
"Mr Sallas-Mensah, therefore, appealed to both the Executive and the Legislature to ensure that the service was allocated enough funds to enable the staff to prepare adequately to render efficient service to the country.
Other contributors to the statement agreed that he Audit Service was crucial to the fight against corruption in the country and called for more resources to be allocated to the service.
In another development, the MP for Odododiodoo, Mr Jonathan Tackie-Komme, in a statement recommended the amendment of Act 478 to ensure the increase of the minimum foreign capital equity from the present $300,000 to $1 million.
He said sections of the Act explicitly reserved trading in the markets for indigenous Ghanaians and by extension banned foreigners from engaging in any trading whatsoever in the markets.
"But sadly, the truth is that foreigners are flouting this law by day with despicable impunity, "he stated.
"I wish to appeal that we should never look on unconcerned while our brothers and sisters are being thrown out of business. Let us remind the government of her obligation to ensure the security of businesses of her own citizens," he said.