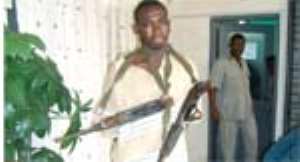 ERIC ALFRED Zieme, aka Kumasi Atta Ayi, the 25-year-old armed robber who killed and robbed most of his victims of huge sums of money and used the booty to construct a supermarket, restaurant and washing bay at the Race Course area in Kumasi, is due for court today.
A police source told DAILY GUIDE yesterday that the suspect, who was arrested last Thursday, November 1, would be put before a Kumasi High Court.
The notorious armed robber had already served time beyond the 48-hour constitutionally stipulated period in police custody.
The failure of the police to arraign the suspect on Monday, according to the police source, was due to the fact that the police needed enough time to investigate some names Zieme had mentioned as accomplices in his operations.
Victims of the lone gunman's dare-devil robbery operations in the Ashanti and Brong-Ahafo regions were said to have heave a sigh of relief when news about his arrest got to them.
Meanwhile the booty from Zieme, aka Home Burger's exploits which had gone into thriving business projects in the Kumasi metropolis may go down the drain as the properties had already been destroyed.
The plush restaurant, washing bay and supermarket complex at the Race Course near Bantama, a Kumasi suburb, being put up by the suspected robber, looked desolate when DAILY GUIDE visited the premises.
The paper gathered that the police on the day of the arrest allegedly demolished portions of the structure and impounded assorted items including electronic gadgets such as air conditioners, satellite dishes, quantities of cement, tiles and about 30 pieces of ceiling lights.
From James Quansah, Kumasi