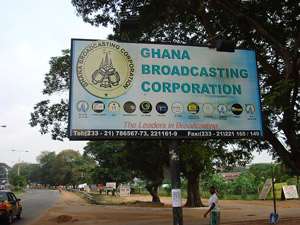 A workshop on Public Service Broadcasting in Ghana has called for the transformation of Ghana Broadcasting Corporation (GBC) from a state reliant broadcaster into a fully-fledged Public Service Broadcasting entity supported by a funding arrangement that is independent of governmental control.
The workshop concluded that NLCD 226 of 1968 under which the GBC was incorporated be reviewed to state the public service functions of the corporation clearly and comprehensively.
It recommended the establishment of a fund to support the transformed GBC and others like it, including public service institutions created by the 1992 constitution to promote and nurture democratic development and popular participation in governance.
The workshop titled "Public Service Broadcasting in Ghana -The way forward" was jointly organized by the Ghana Journalists Association, Friedrich Ebert Foundation and KAB Governance Consult to engender public debate on Public Service Broadcasting in Ghana.
The workshop recommended the establishment of a fund supported by dividends or a percentage of dividends and advertisement revenue from all radio and television stations, tax on all Information Communication Technology appliances imported into the country and a minimum tax on mobile phones sold in the country.
Other sources should come from electricity tariffs, revenue from the coverage of commercial news by the GBC and a percentage of the contributions to the National Health Insurance Scheme.
While the workshop endorsed the continuation of the TV licence fees there were however disagreements over whether the fees should be raised from the current 30Gp (3,000 cedis) per TV set to GH¢1.50 (15,000 cedis).
It was argued that the mechanism for collecting the current TV Licence fees level must be made efficient and based on reliable data on the number of television sets in the country.
The workshop recommended that the proposals being tabled should take between three and five years to develop fully, during which period the state should continue and increase its funding of the GBC through the National Media Commission or Parliament.
Mr. William Ampem Darko, Director-General of the GBC said the public's outrage at GBC's inability to provide live coverage of the public sittings of the Public Accounts Committee (PAC) of Parliament showed that Public Service Broadcasting was essential for the country.
"The blame was fully on the GBC", he observed.
The recommendations were provoked by on an in-depth presentation on the topic by Mr. Berfi Apenteng, a Media Consultant with vast experience in state and private television broadcasting as well as public print media operations in Ghana.