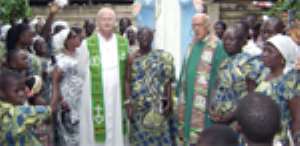 VERY REVEREND Fr. Koos Jansen, Executive Secretary of the Department of Pastoral Care at the National Catholic Secretariat has called on Christians, especially Catholics to emulate the virtues and values of Saints for their spiritual development.
Very Rev. Fr. Jansen was preaching at a church service at the Queen of Peace Catholic Church where members of the St. Francis Akan Society presented a giant statue of the Virgin Mary to the Church.
He said the Church attaches importance to the values and virtues of the Saints who are revered for their spirituality and that Christians and for that matter Catholics should emulate their examples of fortitude, uprightness and dedication to the service of God.
According to Very Rev. Fr. Jansen, Christians are losing faith and resorting to all kinds of false prophesies, detrimental to their spiritual development.
He said, "Because of God's love for us, we enjoy everything free, and human beings depend on God but God does not depend on us."
Very Rev. Fr. Jansen, who was one time Priest of the Parish, reminded Christians that God is the creator of the earth, urging Christians to build on what God has created.
He cited St. Francis of Assisi as a perfect example of prayer, selflessness and complete submission to the will of God.
Francis of Assisi was a poor little man who astounded and inspired the Church by taking the gospel literally- not in a narrow fundamentalist sense, but by actually following all that Jesus said and did, joyfully, without limit and without a bit of self-importance.
Prayer- lengthy and difficult- led him to self-emptying like that of Christ, climaxed by embracing a leper he met on the road.
It symbolized his complete obedience to what he had heard in prayer: "Francis! Everything you have loved and desired in the flesh it is your duty to despise and hate, if you wish to know my will."
This was said to be the admonishment of Christ.
A patron of St. Francis Akan Society, Stephen Yaw Manu and the Chairman of the Society, Albert Osei Kwarteng presented the giant statue of Mary to the Church.
It was received by the Parish Priest, Rev. Fr. Nilan Coln and Very Rev. Fr. Jansen
The church commended Very Rev. Fr. Jansen for his immense contribution when he was the Parish Priest. His administration saw the expansion of the Parish and winning of more souls for Christ.
Very Rev. Fr. Jansen leaves for the Netherlands, his home country for another church duty.
By Wisdom Peter AwukuBy Wisdom Peter Awuku