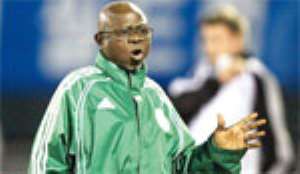 Yemi Tella has died a mere six weeks after leading Nigeria to the under-17 World title in September.
The 56-year-old had spent the last two weeks at the Lagos State Teaching Hospital after being admitted for cancer-like symptoms.
Tella, a former lecturer at the National Institute for Sports in Lagos, had been diagnosed with cancer of the lungs when he led his team to a pre-World Cup eight-nation tournament in South Korea in June.
He received treatment there before recovering enough to lead the Golden Eaglets to victory at the FIFA Under-17 World Cup last month.
But Tella's health deteriorated rapidly in recent weeks and he died on Saturday while receiving treatment in the intensive care unit of the Lagos Teaching Hospital.
According to the NFA Secretary-General, Bolaji Ojo-Oba, a planned friendly match between the local based Super Eagles and the national under-17 side will still go ahead on Wednesday.
Ojo-Oba said the game will be dedicated to the departed Tella.
"It is a monumental loss. We are very sad at this moment," Ojo Oba said.
"We spared no expense in ensuring he got the best treatment in South Korea after he was diagnosed with cancer of the lungs.
"It is so sad that he has to die just like that," Ojo-Oba laments.
Tella was the third coach after Sebastian Broderick and Fanny Amun to have won the Under-17 World Cup for Nigeria.
Last month, he was awarded the Member of the Order of the Federal Republic medal - an important honour - for his achievement, by the Nigerian president Umar Yar'Adua.
BBC