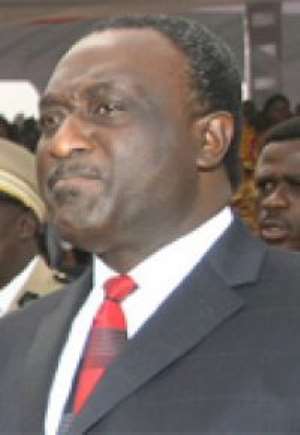 Alan Kyeremanten, a New Patriotic Party presidential hopeful has advised delegates to vote for a candidate who will be able to lead NPP to victory in December 2008 general election.
The presidential aspirant rolled out his ten point criteria when he addressed party members in Worawora in the Biakoye constituency in the Volta Region and stated that NPP needs a presidential candidate who will be marketable to the Ghanaian electorate and not the party alone.
According to him, this is achievable if the NPP delegates elect a new messenger to deliver a new message with a new vision for Ghana.
He likened the NPP race to the Black Star playing international matches in which there are both local and few professional players saying the job of the President of Ghana among others is to sell the country to the international community.
The former Trade and Industry Minister and PSI maintained that President Kufuor's government has achieved a lot but when compared to Malaysia and Singapore, which had independence with Ghana, almost at the same time, the country lags behind.
He mentioned the road network, building of schools, school-feeding programme, National Health Insurance Scheme etc as some of the achievements under President Kufuor.
Against this background, the aspirant said the nation needs a visionary leader who could put the country on accelerated progress of development within the space of five to ten years.
Mr Kyerematen noted that is it difficult for a governing party to win a third term whilst in office pointing out it is a global trend and cited the National Democratic Congress lost in 2000 polls.
The electorate, he said, often get bored with government for serving eight years even if the incumbent government performs well.
On the party unity, the presidential aspirant reminded the NPP of the 1979 unfortunate incident and pledged to unite the party after the December congress.
Touching on the strongholds of the NPP and NDC, the two main political parties, Mr Kyerematen told the party audience to elect a presidential aspirant who can command votes from the perceived NPP strong support base such as Ashanti, Eastern, Central, and Western regions.
He mentioned Volta as NDC's 'world bank' noting that the three regions in the north are gradually adding up to the main opposition party's stronghold.
He also expressed concern about grassroots structures of the NPP and said the evidence is clear from the manner the aspirants are running their campaign as to who can help the foot soldiers if the person becomes the President. That person, he believes, is him.