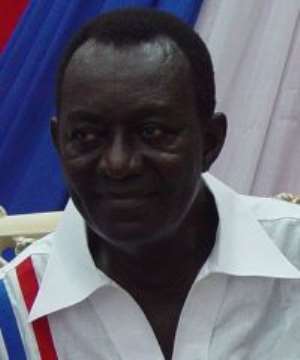 "If we are talking about a visionary leader and the country's development then I think Kwame Addo Kufuor should be elected as the New Patriotic Party's flagbearer at the December congress."
Dr Addo-Kufuor, former Defence Minister and now an NPP presidential hopeful, stated this when he addressed the media on Wednesday in Accra, to formally launch his bid to win the flagbearership of the NPP and lead the party to victory in 2008.
The aspirant, who has consistently showed up in polls as among the top 5, showcased his achievements as a Member of Parliament for Manhyia, former President of Ghana Medical Association, a former Acting Interior Minister, a former Defence Minister as well as his educational background in a Power Point Presentation at the event.
Explaining why he adopted that style of presentation, Dr Addo-Kufuor said he preferred the visual presentation so that his achievements would better be appreciated.
Warming to his message, the Manhyia MP said Ghana needs a leader who has the right international contacts and would therefore be able to walk the talk in the international arena while seeking the nation's welfare.
Dr Addo-Kufuor appealed to the delegates to judge him by his achievements, track record, and competence, rather than looking at the blood relationship between him and the incumbent President. "I view the vacancy in the NPP as an elective position," asserted, adding, "I strongly suspect this issue is being put out there by perhaps an aspirant who failed to perform well as a Minister."
Explaining further, the Manhyia MP reiterated that he had represented the constituency since 1996, at a time when his brother was not the President of Ghana. The Kufuor children, he said, were brought up to be fiercely independent but loyal to each other; indeed, President Kufuor did not consult the family when he wanted to become President, he told the large assemblage. "I don't have to consult my brother, the family doesn't come in at all," he insisted.
Advertisement
Asked what influence the family ties would have in case he becomes President, he stated confidently that his brother would not have any influence on him or his policies of government.
Quizzed on what he would do differently from his brother if elected President, Dr Addo-Kufuor observed that there might soon be more funds in the national kitty due to the discovery of oil, and he might be forced to make radical decisions unfettered by the constant need to pinch and save in order to accelerate the nation's development.
On his vision for Ghana, Dr Addo Kufuor touched on governance, economy, education health, judiciary, energy, and agriculture. He frowned at the annual vacation for judges, describing it as a colonial legacy which needs to be abolished. In its place, the presidential aspirant proposed that judges be allowed to take annual leave like any other public servant. Again, he intends to fully automate all the courts in the country.
On corruption, Dr Addo Kufuor pledged to set an example by publicly declaring his assets as a President and also direct his cabinet and government appointees to do same.
In addition, the aspirant believes that any alleged corrupt practices by government officials should be speedily investigated and swift punishment meted out if the allegation is found to be true.
Dr Addo-Kufuor was until his resignation last month, the longest serving Minister of Defence in the Kufuor administration, having been in office since 2002. According to the former Defence Minister, his most cherished legacy is the current cordial civil-military relationship which hitherto had been characterised by fear and suspicion of the military by civilians.
Other achievements were the construction of the Kofi Annan Peacekeeping Training Centre, rehabilitation of the 37 Military Hospital, construction of the Burma Hall and Barracks for soldiers, and an ICT Training Centre.
At his constituency, he mentioned the construction of toilet facilities, boreholes, schools, assisting over 800 women to access micro-credit scheme, and helping to secure jobs for over 200 youth.